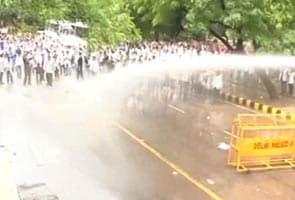 New Delhi:
Hundreds of medical students from Delhi protested today at Jantar Mantar against the compulsory year-long rural posting required by the government, demanding it be made voluntary.
In a directive to the Medical Council of India last year, the ministry had asked for extending the three-month rural posting to one year and include it in the MBBS curriculum. The idea was to attach the doctors to the Centre's National Rural Health Mission.
The medical students, however, say the posting in rural areas is unfair in the absence of proper infrastructure at the primary health centres. They were also joined by some doctors in the protest.
Police used water cannon to prevent the agitating mob from marching to Nirman Bhavan where the Health Ministry is located.
A delegation of the agitating students was allowed to meet the health ministry officials who, sources said, have agreed to look into their demands.