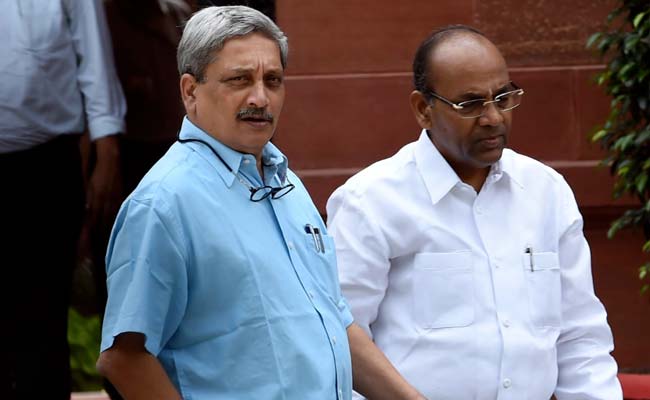 Highlights
Manohar Parrikar will take oath as Goa Chief Minister today
Rahul Gandhi alleged that BJP used "money power" to annex power in Goa
Congress has won 17 seats, the BJP has won 13 in assembly elections
Panaji:
Congress leaders have welcomed the
Supreme Court's order for a trust vote in Goa
within 48 hours, the judge's sharp observations to it notwithstanding. Digvijaya Singh, the Congress leader in-charge of Goa described it as a "great victory," though he did not explain his comments. The party's lawyer and senior leader Abhishek Manu Singhvi said it was important that the court heard the Congress petition "patiently on a holiday" and that "the Governor's decision has been interfered with."
"If someone wants to be Chief Minister for two days, he is welcome," Mr Singhvi said about BJP leader Manohar Parrikar, who has got a go-ahead from the top court to take oath as Goa Chief Minister this evening.
Congress vice president Rahul Gandhi alleged that the BJP has used "money power" to annex power in Goa. He accused the party of "misusing the governor's post."
The Congress had moved the top court against Goa Governor Mridula Sinha inviting the BJP to form government in the state despite the Congress winning more seats in the assembly elections. The court did not accept the Congress' plea to stop Mr Parrikar from taking oath this evening and said he must prove that he has majority support on Thursday. The Congress has won 17 seats, the BJP has won 13 but moved fast to secure the support of smaller parties. A party must have the support of 21 MLAs in the 40-member assembly to form government.
The Congress says it too has 21 and should have been consulted by the Governor as the largest party before she invited the BJP.
"If you had the numbers, you would have held a dharna (protest) at the Governor's house," the Supreme Court said today, adding that the Congress' petition to the court or the Governor does not provide proof of the majority support that it claims it has. The BJP has given the governor letters of support from its new allies.
Governor Sinha had given Mr Parrikar 15 days to prove he has majority support. The court asked him to take the vote in two days. The BJP has said it would've taken a floor test immediately anyway.
"I am grateful the court heard us. I believe the Governor's decision has been interfered with," Mr Singhvi said.