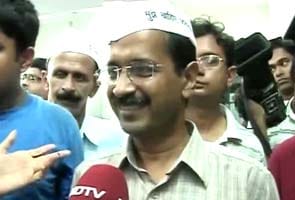 New Delhi:
Releasing more papers that point to allegedly illegal business deals between Robert Vadra and the DLF group and favours done by the Haryana government to both, anti-corruption activist-turned-politician Arvind Kejriwal looked at the gathered media and said with a slight smile: "...the mango people of this country sent us evidence and we are presenting that today."
The reference to 'mango people' was in retaliation against Mr Kejriwal's target, Mr Vadra, who is the son-in-law of Congress president Sonia Gandhi. Last Friday, when the first tranche of documents was made public by Mr Kejriwal, they put Mr Vadra in the centre of the allegation that he had illicit deals with the real estate giant DLF and for whom he got favours from Congress-ruled states.
The allegations kicked up a storm, but not much out of Mr Vadra. Till he wrote on his Facebook status: Mango people in banana republic. Mango people translates into Hindi as "aam admi" (common man), the political positioning that Mr Kejriwal has taken for his still-to-be-named political party. The Cambridge Online Dictionary defines banana republic as "a small country, especially in South and Central America, that is poor and often badly ruled in a way that is not moral".
Mr Vadra's status update, specially the second part, drew sharp reactions, mostly from opposition parties, who ridiculed him for calling India a 'banana republic' especially when his family was leading the ruling party. "What Robert Vadra has said is absolutely atrocious. It shows the mindset of the Congress party... Earlier, Shashi Tharoor (then Minister of State for External Affairs) had used the term cattle class for the common man. Now, Vadra has called them mango people," BJP spokesperson Prakash Javadekar said.
But today wasn't Mr Kejriwal's first swipe at Mr Vadra's status. On Sunday he had said, "Mango men will be the nemesis of the rich."
Mr Vadra has since not just removed his status update, but closed down his Facebook account. But he might well have contributed a brand new term to Indian politics.
Mr Vadra has since not just removed his status update, but closed down his Facebook account. Before he did, Mr Vadra reportedly wrote on his page: "Obviously, it seems I have people on my Facebook account who do not have a sense of humour. Everything I write becomes news and further debates on television?? I have decided to delete my account."