New Delhi:
Bengal Chief Minister Mamata Banerjee -- who has taken an initiative to put together a common front against the BJP ahead of next year's general elections --
met a cross-section of opposition leaders
in parliament today. Next on her list are Yashwant Sinha and Arun Shourie - BJP veterans who have publicly differed with the party on a number of issues.
Mamata Banerjee came to Delhi yesterday on a four-day visit
, the highpoint of which was a meeting with Sharad Pawar, who also is working on defining the contours of a common front, and Congress leader Sonia Gandhi. The meeting with Mr Pawar -- which took place in parliament today -- was set up earlier this month by Praful Patel. The senior leader of Mr Pawar's Nationalist Congress Party had met Ms Banerjee in Kolkata.
In an interaction with the media after her visit to parliament, Mamata Banerjee criticized the BJP-led government in scathing terms. "Whether Indira Gandhi eradicated poverty I don't know. But the message went through. Forced sterilisation messaging got through - likewise demonetization etc. The message has gone through," she said. "This government has lost all its credentials.. credibility... Now they give
dhamki
... we'll do this, we'll do that."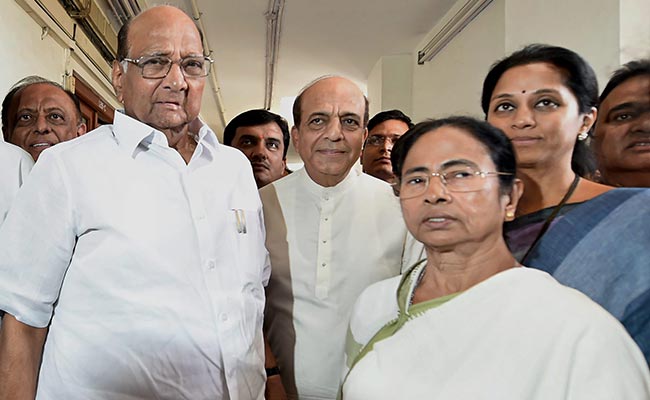 Among the leaders Mamata Banerjee met today are Shiv Sena lawmaker Sanjay Raut, K. Kavitha, daughter of Telangana Chief Minister K. Chandrasekhar Rao, and Lalu Yadav's daughter Misa Bharati, Ram Gopal Yadav, the senior Samajwadi Party leader who is seen as the right-hand man of Akhilesh Yadav, and Congress's Ashwini Kumar.
Mamata Banerjee, however, did not meet Congress chief Rahul Gandhi, or his mother Sonia Gandhi, with whom she shares a warm rapport. "Sonia-ji is not well. Went to meet her but she had left. Let her recover," Ms Banerjee said. Asked if she was in touch with the senior Congress leader, Mamata Banerjee -- who earlier confessed to concerns about Mrs Gandhi's health -- said, "I keep in touch everyday".
Mamata Banerjee had missed the dinner hosted by Sonia Gandhi
earlier this month, but she had sent senior party leader instead.
Earlier this month, Telangana chief minister K Chandrasekhar Rao had met Mamata Banerjee in Kolkata to discuss the possibilities of a non-Congress-non-BJP Federal Front. Sources close to Mamata Banerjee, however said the Trinamool Congress chief wanted the Congress in the opposition alliance.
Mamata Banerjee's appointment diary for tomorrow is full. Besides Yashwant Sinha and Arun Shourie, she is also expected to meet BJP's actor-politician Shatrughan Sinha, who is also at odds with the party. Another meeting is scheduled with Farooq Abdullah, patriarch of Jammu and Kashmir's National Conference.