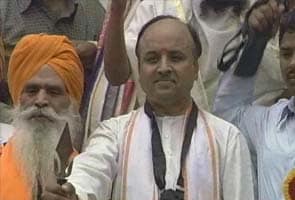 Mumbai:
The Maharashtra Police today registered a case against Vishwa Hindu Parishad (VHP) leader Praveen Togadia for making a hate speech in the Nanded district of the state last week. Local cops who had heard the speech had earlier said they "did not find it communal."
Action in the case has come only after a nudge from the Centre. Minister of State for Home RPN Singh said in the morning, "If Togadia's speech is inflammatory; the state government must take action against him." Law and order, he pointed out, was a state subject.
A little before the police booked Mr Togadia for disturbing harmony and public mischief, Maharashtra Home Minister RR Patil said, "Maharashtra has one standard for all. Whatever Togadia has said will be examined and after that whatever legal and police process has to be done, will be done."
Mr Patil's own colleague, Maharashtra minister for minorities Naseem Khan had said that he had heard the speech and that "there is enough evidence to book Praveen Togadia. He is clearly trying to divide communities in an attempt to polarise them before the elections." He urged the
Congress-NCP government that he is a part of, to register a case against the VHP leader. "If Owaisi was booked so should Togadia, we cannot have double standards," the Congressman told NDTV.
In neighbouring Andhra Pradesh, also ruled by the Congress, Akbaruddin Owaisi, a member of the legislative assembly and leader of the MIM (Majlis-e-Ittehadul Muslimeen), has been in jail since last month for making hate speeches in the Adilabad district of that state, not far from where Mr Togadia made his speech, only a few days later.
Sources in the Maharashtra government had said they hadn't acted because of the all-clear given to Mr Togadia by the Nanded cops.
The Maharashtra government has been criticised as being soft on politicians - like the Thackerays or Abu Azmi of the Samajwadi Party or now Praveen Togadia - who have made provocative speeches. Detractors say this is in stark contrast to the promptness the state authorities have shown to act against soft targets like the young women who were arrested last year for a post on Facebook on the day of Shiv Sena founder Bal Thackeray's funeral.