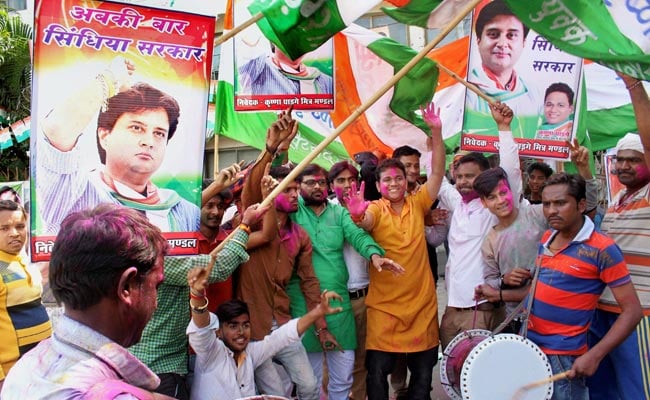 New Delhi:
The Congress has won the Mungaoli and Kolaras seat in Madhya Pradesh, where by-elections were held last week. In Kolaras constituency, Congress candidate Mahendra Singh Yadav defeated his nearest rival, BJP's Devendra Kumar Jain Pattewale, by over 8,000 votes. In Mungaoli, Congress' Brijendra Singh Yadav defeated BJP's Bai Sahab Rao Deshraj Singh Yadav by over 2,100 votes. The outcome of the two by-polls, held on February 24, are being seen as a possible pointer to the mood of people ahead of the Assembly elections due later this year in the BJP-ruled state. The by-polls were necessitated due to the death of Congress MLAs Mahendra Singh Kalukheda (Mungaoli in Ashoknagar district) and Ram Singh Yadav (Kolaras in Shivpuri district).
In Odisha, the ruling BJD marched ahead of BJP establishing a huge margin in the by-election for Bijepur Assembly seat. BJD nominee Rita Sahu won the seat with nearly 42,000 votes over her nearest BJP candidate Ashok Panigrahi.
Here are the live updates of by-poll results in Madhya Pradesh and Odisha:
Read: In Battle of Prestige, Congress Wins Madhya Pradesh Bypolls
The Congress today won crucial by-elections in two assembly seats in Madhya Pradesh, seen as a semi-final before assembly elections later this year. The Congress held both seats - Mungaoli and Kolaras - which were vacated by the death of its sitting legislators. The ruling BJP haD gone flat out to try and wrest the seats away from the opposition party with Chief Minister Shivraj Singh Chouhan leading an aggressive campaign. In the Bijepur assembly by-election in Odisha, the ruling BJD won the seat that was held earlier by the Congress.