New Delhi:
Highlights
China will never compromise on its sovereignty, security: Xi Jinping
Won't allow anyone to split any part of Chinese territory: President Xi
India, China locked in a massive standoff since early June
China will never compromise on its sovereignty, security or development interests, President Xi Jinping said on Tuesday at an Army Day celebration. His comments are significant in the middle of a prolonged standoff between India and China near the Sikkim Sector, which is approaching a third month.
"The Chinese people love peace. We will never seek aggression or expansion, but we have the confidence to defeat all invasions. We will never allow any people, organization or political party to split any part of Chinese territory out of the country at any time, in any form," said President Xi at the ceremony to mark the 90th founding anniversary of the People's Liberation Army.
"No one should expect us to swallow the bitter fruit that is harmful to our sovereignty, security or development interests," he added.
But Amid the border face-off and reports confirming
fresh Chinese incursion in Uttarakhand last week
, signs of strained ties were noticeably absent at an event yesterday in
New Delhi to mark the 90th anniversary of China's army.
Representatives from India, Bhutan and China were present.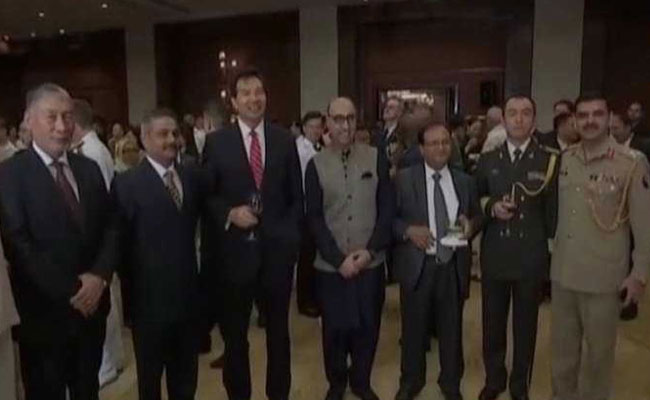 Sources on both sides have indicated that talks are on to find a diplomatic solution to the standoff. Channels of communication are on as was seen by the participation of the Indian representative at the PLA event.
India and China are locked in a massive standoff at the border in Sikkim, the longest between the two countries since the 1962 war.
China says Indian troops crossed the border at Sikkim in June to stop the Chinese army from constructing a road on a remote Himalayan plateau it calls Donglang. Bhutan says the region is Doklam, and is part of its kingdom. India, a close ally of Bhutan, deployed troops to stop the road project, which led to Beijing accusing India of trespassing on Chinese soil.
Yesterday, Home Ministry sources confirmed that some 50 Chinese soldiers entered Uttarakhand's Barahoti last Tuesday and spent about two hours before going back. Officials say there have been many such transgressions as both sides have different perceptions of the Line of Actual Control.
Two days after the Barahoti transgression,
India's National Security Adviser Ajit Doval travelled to Beijing and took up the border standoff with the leadership there.
Get Breaking news, live coverage, and Latest News from India and around the world on NDTV.com. Catch all the Live TV action on NDTV 24x7 and NDTV India. Like us on Facebook or follow us on Twitter and Instagram for latest news and live news updates.