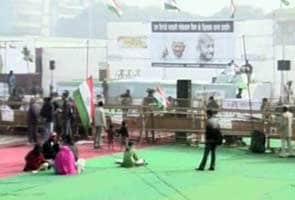 New Delhi:
Team Anna's protest against a "weak" Lokpal Bill remained a damp squib for the second day today as supporters refused to be drawn to Delhi's Ramlila Maidan. The crowd was equally unimpressive in Mumbai, where Anna Hazare's health has become a matter of serious concern for doctors and close aides.
Security personnel were more visible as barely 200 people gathered at the 30,000-capacity Ramlila Maidan this morning and even prominent Team Anna members were conspicuous by their absence.
This is in sharp contrast to the 30,000 to 40,000 people who had poured in during Anna Hazare's 12-day fast in August this year. His two other fasts at Jantar Mantar had also witnessed a large turnout.
Team Anna member Prashant Bhushan had yesterday blamed the winter chill and the fact that Anna was protesting in Mumbai.
The protest was scheduled to start at 10 am but even after an hour, the venue wore a deserted look with a handful of supporters. Recorded music was played with the supporters waving the tricolour and launching into sporadic sloganeering against the government.
What has Team Anna more worried is the disappointing turnout in Mumbai, with the tens of thousands of people that Team Anna had expected just not turning up at the MMRDA ground. Day two of the fast saw a trickle of just a few hundreds since this morning.
After ending his fast on December 29, Anna and his group of social activists plan to head to the national capital where they will launch a 'jail bharo' movement by protesting in front of the houses of Congress leaders like Sonia Gandhi and her son, Rahul Gandhi. The online registration for this campaign has crossed one lakh volunteers but this number has not translated into crowds at the protest venues.
Anna Hazare has not taken the stage since last evening, when he warned the government that he would campaign in five poll-bound states if it failed to come up with a strong and effective Lokpal.
The organisers are now hoping that the crowds would gather by afternoon, when music composer Shankar Mahadevan and ghazal singer Anup Jalota are expected at the venue.
Team Anna pegged the number of people who turned up to show solidarity with the 74-year-old Gandhian yesterday at about 10,000 but the police put this at a more conservative 7,000.
Sources said that the organisers were analysing the reasons for this poor turnout. One of the factors reportedly being cited is the location of the venue in a commercial district which makes it difficult for people to commute.
(With inputs from PTI)