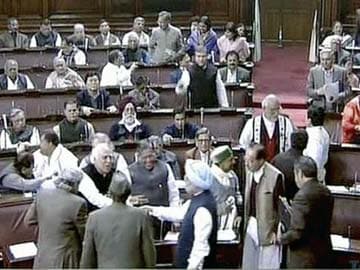 New Delhi:
The Rajya Sabha on Tuesday passed the Lokpal Bill, which provides for the appointment of a powerful anti-graft ombudsman to investigate wrongdoing in government, ending years of dithering as public anger has mounted over a string of corruption scandals.
The Bill will now go to the Lok Sabha for a four-hour debate followed by a vote today.
The ruling Congress, which suffered big losses in recent assembly elections, rushed the Bill through the Upper House of Parliament. It's redoubled push comes soon after
Arvind Kejriwal
's Aam Aadmi Party, with its promise to fight corruption, played a leading role in decimating the Congress in Delhi after 15 straight years in power.
"We must listen to the voices outside the House. I hope that the Bill creates history," said Law Minister Kapil Sibal after the Bill was cleared by a voice vote, with the support of major opposition parties like the BJP and the Left.
Leader of the Opposition Arun Jaitley said, "The Bill is the result of the government realising which way the wind was blowing on corruption."
(Who said what)
Only the Samajwadi Party, which provides external support to the government, opposed the Bill, saying it would further paralyse government decision-making as officials would be too afraid to take decisions for fear of investigation.
(Lokpal Bill: Key provisions of the amended legislation)
The party staged a strategic walk-out after it was reportedly convinced by the government's floor managers to tone down its stand.
The Congress immediately attempted to credit its vice-president, Rahul Gandhi, with the Bill clearing Rajya Sabha; Congress sources said Mr Gandhi had taken charge of the party's Lokpal strategy.
In general elections due by May, corruption and clean governance are expected to be top campaign issues.
Anti-corruption crusader Anna Hazare declared that he will call off his hunger strike after the Lok Sabha passes the Lokpal Bill.
(Read)
His fast to put pressure on politicians to act on the legislation, first proposed 46 years ago, enters its ninth day today.
Anna's fast in 2011 and massive public protests forced the government to introduce the legislation in Parliament.