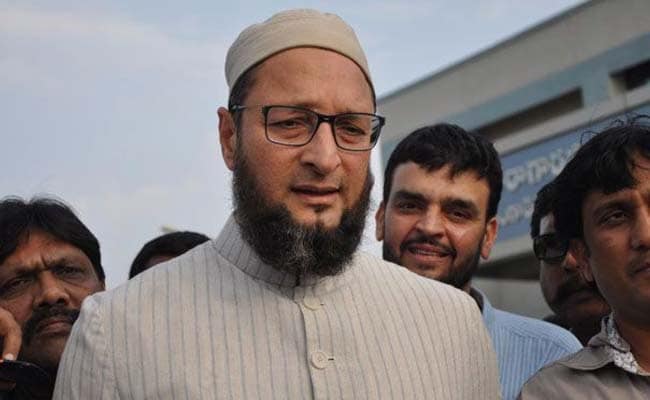 Highlights
40 CRPF personnel were killed last month in a terror attack in Pulwama
Asaduddin Owaisi slammed PM, Rajnath Singh over a month after the attack
"How was 50 kg RDX transported in Pulwama?" he questioned
New Delhi:
Telangana politician Asaduddin Owaisi has taken a swipe at Prime Minister Narendra Modi and his party BJP, saying were they sleeping after having "beef biryani" when the Pulwama terror attack was planned and carried out.
40 CRPF personnel were killed last month when a Jaish-e-Mohammed suicide bomber attacked their convoy in Jammu and Kashmir's Pulwama, using improvised explosive device (IED). In response, the government scrambled jets and destroyed a terror training camp in Pakistan Occupied Kashmir.
While there was no official confirmation as to how many terrorists were killed in the air strike, some sections in the government estimated that 300-400 terrorists might have died in the pre-dawn strike.
The opposition raised doubts regarding the damage caused by the strikes. Home Minister Rajnath Singh, in support of the government's claim of massive damage to terrorists, said earlier this month that National Technical Research Organisation (NTRO) detected the presence of around 300 "active" mobile phones at the camp.
Mr Owaisi on Saturday attacked the government over Mr Singh's comment. The Hyderabad lawmaker was addressing an election meeting.
"I want to ask Rajnath Singh and Prime Minister Modi that if NTRO can watch about 300 cell phones in Balakot then sitting in Delhi were you not able to see how 50 kg RDX was brought in Pulwama," Mr Owaisi was quoted by news agency PTI as saying.
"...right under your nose 50 kg RDX was transported in Pulwama. Were you not able to see it? Were you sleeping? Did you eat biryani. May be you had beef biryani and slept. Here our 40 people died," he added.
The BJP has time and again said that it is committed to the protection of cows, considered sacred by sections of Hindus. Some BJP governments in state even had dedicated ministries for the welfare of the bovine animals.
The issue has also triggered violence against the minorities. In 2015, a Muslim man was beaten to death by cow vigilantes in Dadri over suspicion that he was storing beef in his fridge. In 2016, four Dalit youths were allegedly beaten up by cow vigilantes in Gujarat.
Last year, a senior policeman was shot in Uttar Pradesh's Bulandshahr during violence triggered by the recovery of cow carcasses.
The opposition has blamed the BJP government for giving a free hand to fringe elements.
Mr Owaisi is contesting the April-May national election from Hyderabad, where his party AIMIM is considered influential.
With inputs from PTI