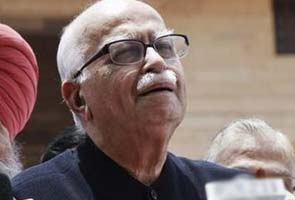 New Delhi:
The BJP has said that the party does not accept the resignation of its stalwart,
LK Advani
, from all his party posts, and will depute senior leaders to persuade him to change his mind.
"I have not accepted Shri Advani ji's resignation," tweeted the BJP president Rajnath Singh, who met Mr Advani for nearly 45 minutes today in an unsuccessful attempt to appease Mr Advani. Sources say Mr Singh had also asked Mr Advani to not make his resignation public.
Sushma Swaraj, a senior leader close to Mr Advani said that he had not consulted her or others about his decision. Before rushing to meet him, she said, "I am confident that we will persuade Advani
ji
."
His resignation is the culmination of days of marked protest to his party's plans to make Gujarat Chief Minister
Narendra Modi
the head of its campaign in election due next year. That announcement was made at a conference in Goa yesterday, which Mr Advani skipped. The official reason given was illness.
BJP members like Venkaiah Naidu and Ananth Kumar, perceived to be loyal to the 85-year-old, visited him in Delhi this afternoon shortly after he sent a strongly-worded letter to party chief Rajnath Singh in which he wrote he is "finding it difficult to reconcile either with the current functioning of the party, or the direction in which it is going." (
Read the full letter
)
Mr Advani, who is a founder member of the BJP, had at one time mentored the chief minister and defended him against criticism that he failed to stop communal riots in 2002 in Gujarat in which hundreds of Muslims were killed.
In recent weeks, Mr Advani had offered the party two alternate proposals which were rejected. First, he petitioned for two election committees to be created for state and national elections, with Mr Modi heading one of them. When the BJP responded that would create confusion, he asked that Mr Modi be designated convenor and not chairman , which meant party chief Rajnath Singh would preside over meetings rather than the chief minister.