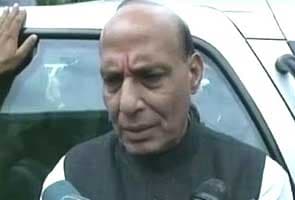 Nagpur:
RSS chief Mohan Bhagwat's third and last power lunch this week was with BJP president Rajnath Singh this afternoon, to brief him about his deliberations with party seniors LK Advani and Murli Manohar Joshi over the last two days.
After the meeting Mr Singh denied that the Rashtriya Swayamsevak Sangh or RSS, which is the BJP's ideological parent, was sitting in on the party's election strategy. The BJP chief also rejected suggestions that LK Advani, who met the RSS chief in a marathon session yesterday, was miffed with new power equations in the party. "Advani
ji
is not upset. There are no differences in our party," he said, adding, "Mr Advani is our tallest leader and guide."
That last remark seemed to settle any ambiguity about what role the 85-year-old Mr Advani is expected to play as the party preps for next year's Lok Sabha elections and the Assembly elections in four key states at the end of the year.
The meetings at the RSS headquarters in Nagpur are being viewed as an attempt to convince the party's seniormost leaders that they must now guide others in the party, rather than vie for key posts.
Sources have told NDTV that Mr Bhagwat has made it clear that while Mr Advani would be a mentor to the party, he made it equally clear that Mr Modi would be the lone leader for the 2014 general elections.
After his meeting yesterday, Mr Advani said he was a committed RSS man. He said his discussions with Mr Bhagwat on the forthcoming elections would benefit the BJP. That was construed as a sign that Mr Advani's rebellion had ended.
RSS sources said Mr Bhagwat wants Mr Advani to be given the responsibility of strengthening the BJP-led national alliance, the NDA, which has been debilitated by the loss last month of crucial ally Janata Dal (United).
The RSS wants senior leaders to be given their due respect and wants them kept engaged to avoid embarrassments like last month's public sulk by Mr Advani when he protested against the promotion of Gujarat Chief Minister
Narendra Modi
as the BJP's election campaign committee chief. Mr Advani had resigned from all party posts and the RSS chief had to intervene to make him change his decision.
On Thursday, Mr Advani and Mr Modi were tactically seated side by side at a meeting of 12 top BJP leaders which endorsed Mr Modi as the party's key strategist.