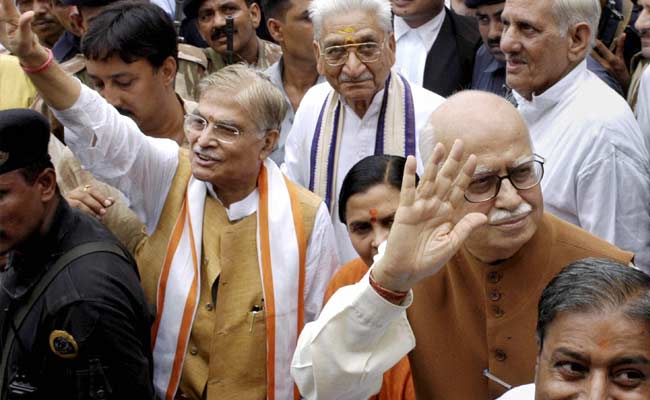 New Delhi:
LK Advani, 89, will face trial for criminal conspiracy in the demolition of the 16th-century Babri Masjid in Ayodhya, along with nine others including Murli Manohar Joshi and Uma Bharti.
The Supreme Court ruling 25 years after the mosque razing comes at a time the BJP patriarch's name was swirling, along with that of others like Mr Joshi, for the presidential race.
Many commented on social media that the court verdict effectively places a lid on the presidential ambitions of Mr Advani. Elections for president are due by July, when Pranab Mukherjee's term ends. Earlier this month, Mr Advani ruled himself out of the presidential race in an interview to a TV channel.
In recent months, the BJP veteran appeared to have lagged behind other names like Sushma Swaraj, Draupadi Murmu and even Mr Joshi. In the BJP national executive meeting in Odisha last weekend, Prime Minister Narendra Modi inviting Mr Joshi to join him at the dinner table was seen as a sign that he had scored over the others.
Some note that for Mr Advani, who was sidelined after the BJP's 2014 victory and assigned a mentorship role as part of the virtually defunct "Margdarshak Mandal" of the party, the Babri trial means that the spotlight is back on him.
In the 1990s, Mr Advani was the face of the movement to build a Ram temple at the site in Ayodhya where the 16th-century Babri mosque stood till it was pulled down by hundreds of right-wing activists or karsevaks on December 6, 1992. The Central Bureau of Investigation (CBI) says that Mr Advani and other leaders like Mr Joshi, Uma Bharti, Vinay Katiyar and Kalyan Singh made incendiary speeches from a dais close to the mosque, which motivated the volunteers to raze the structure.
Over the years, Mr Advani's moves indicated an attempt to shed his strident Hindutva image. Today's verdict, however, brings back into focus his 'mandir' rath yatra avatar.
The court has ordered that the case be completed in two years. That means a verdict in 2019, when national elections are due.