Voting is Manipur has come to an end, while people are still heading to polling booths in Uttar Pradesh. People of India's most populous state are voting in the penultimate phase for 49 seats, while in Manipur, 38 seats are being contested. Ruling Samajwadi Party patriarch Mulayam Singh's Lok Sabha constituency - with 10 assembly seats - remains in focus where voting is being held today. Top politicians including Prime Minister Narendra Modi, Chief Minister Akhilesh Yadav, Congress vice chief Rahul Gandhi and Bahujan Samaj Party chief Maywati are scrambling for public attention in Varanasi today which votes next in UP's last phase of elections on March 8.
In Manipur, where voting began today in the first of two phases, the ongoing economic blockade led by the United Naga Council has become a key election issue. PM Modi has vowed to end the blockade which has crippled the state's transport and supply lines for over 4 months if voted to power. His BJP has criticised the Congress government, which has ruled the state for the last 15 years, over the blockade calling it "handiwork of Chief Minister Okram Ibobi Singh".
Here are the highlights of voting in Uttar Pradesh and Manipur:

6:42 pm IST:
84.8% voter turnout has been recorded in the first phase of Manipur elections.
6:30 pm IST:
87% turnout recorded in Imphal East. This is the highest ever for the constituency.
6:20 pm IST:
57% voting in sixth phase of Uttar Pradesh elections till 5 pm. The state recorded an overall voter turnout of 54.6% in the 2012 assembly elections.
5:15 pm IST:
168 candidates are trying their luck for the 38 seats in the first hase of Manipur elections. Prominent among them are Speaker Th Lokeswar Singh, ministers I Hemochandra Singh, Govindas Konthoujam, Kh Ratankumar Singh and T Manga Vaiphei, Manipur PCC President T N Haokip, former ministers Phungzathang Tonsing, and Y Erabot Singh and BJP leader Th Chaoba Singh.
4:56 pm IST:
48.7 per cent of the voters have cast their votes till 3 pm.
3:36 pm IST:
Polling for the first phase of Manipur elections has ended.
1:28 pm IST: Latest voting figures in Manipur till 1 pm.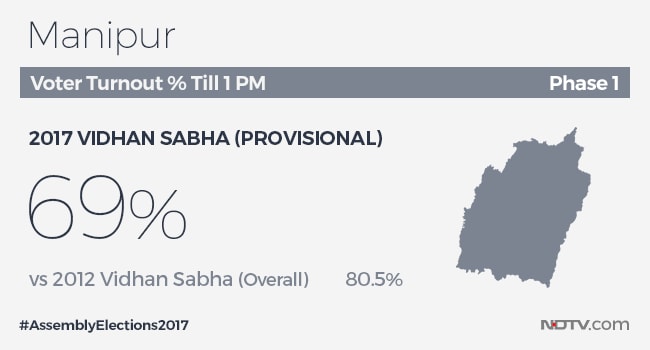 1:24 pm IST:
Amid brisk voting in Manipur, Irom Sharmila's party (PRJA) candidate attacked by unknown persons.
11:46 am IST: Uttar Pradesh voter turnout till 11 am: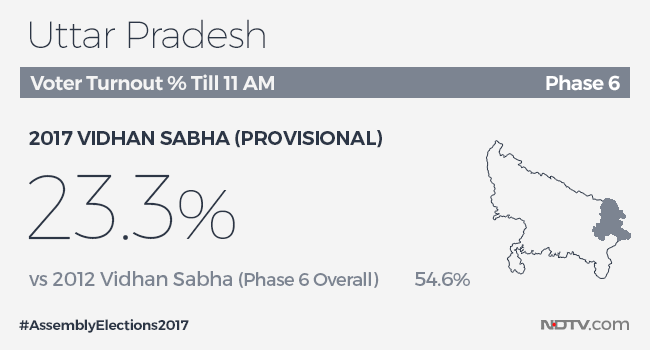 11: 34 am IST: Manipur's voter turnout till 11 am: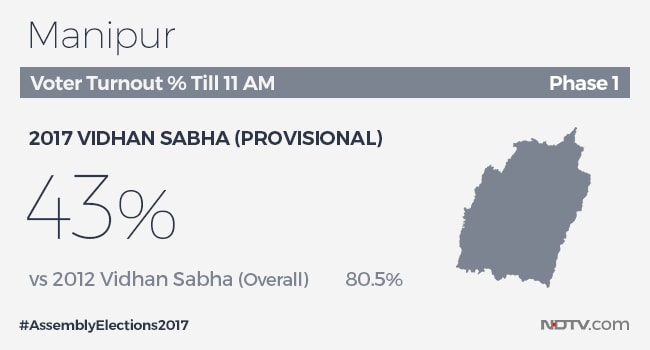 10:49 am IST:
Irom Sharmila casts her vote at Khurai assembly constituency, says she is confident of her victory.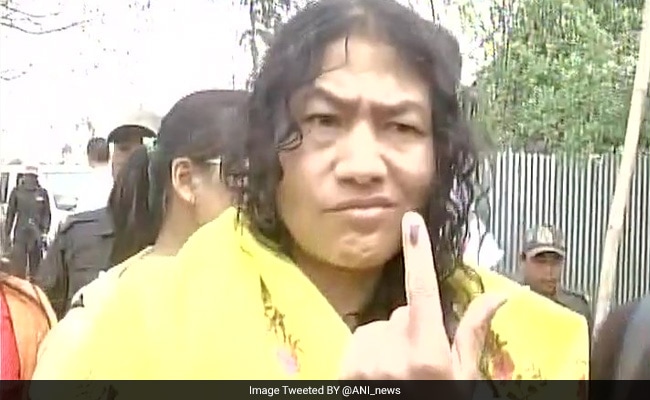 10:30 am IST: Voter turnout for Manipur till 10 am: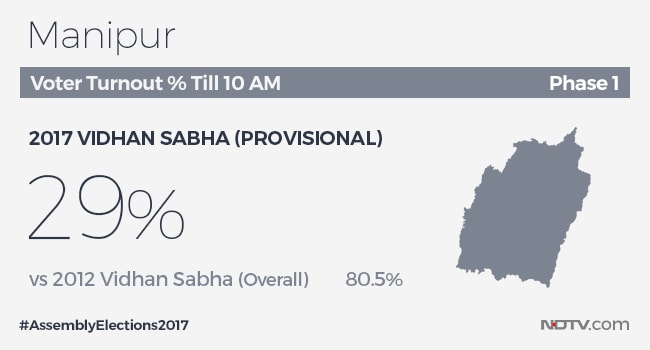 10:20 am IST:
Voters queue up outside a polling booth in Uttar Pradesh's Gorakhpur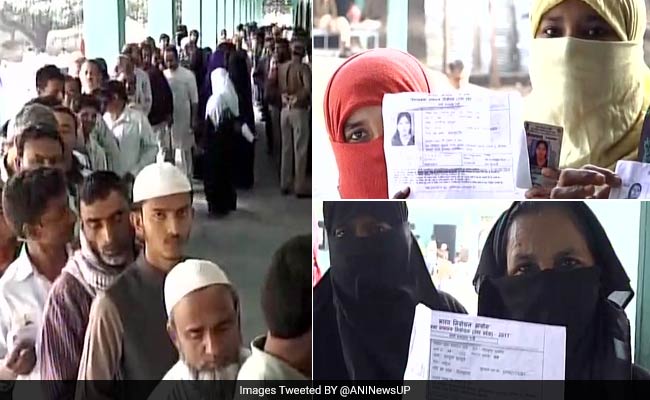 10:01 am IST: Meanwhile,
First time voter shows her inked finger after casting vote at a polling booth in Manipur's Bishnupur #ManipurElection2017pic.twitter.com/jm0DXl97IG

- ANI (@ANI_news) March 4, 2017
10:00 am IST:
Voting affected in Mau district due to problem in EVM machine at a booth in Nasirpur village.
9:45 am IST: Manipur voter turnout till 9 am: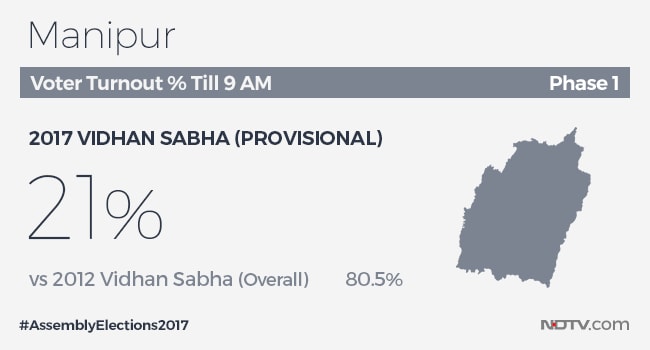 9:44 am IST:
UP records 11.2 per cent voter turnout till 9 am
.

8:30 am IST:
In Manipur phase 1, the voter turnout till 8 am is 10 per cent.
7:30 am IST: PM urges people to step out and vote
Today is the first phase of the Manipur Assembly polls. I appeal to voters in the seats polling today to turnout in record numbers & vote.

- Narendra Modi (@narendramodi) March 4, 2017
7:00 am IST:
Voting begins for elections in Manipur (Phase 1), Uttar Pradesh (Phase 6)
6:55 am IST
: People begin to queue up in Manipur
Bishnupur: People queue up outside polling booths 24/2, 24/3 in Nambol's Utlou village, voting to begin shortly #ManipurElection2017pic.twitter.com/k0LPA8X9GR

- ANI (@ANI_news) March 4, 2017
6:40 am IST:
The second last phase of UP elections this time will witness 635 candidates pitched against each other in a bitter battle. Of them, as many as 126 candidates that is one in every five candidates contesting this phase have
declared criminal cases against them.
6:30am IST:
The Manipur contest:
Ethnic equations play a big role
in assembly elections here. Meiteis form a major chunk of voters in 40 seats, Nagas in 20, Kukis and 30 other tribes are also decisive.
06:15 am IST:
Voting to commence shortly in both the states.