NEW DELHI:
Prime Minister Narendra Modi is attending the G7 Summit where he will speak on burning global issues of environment, climate and digital transformation and also meet world leaders. He met US President Donald Trump on the sidelines of the summit and the situation in Jammu and Kashmir and trade are high on the agenda. PM Modi spoke about India-Pakistan relations and said all issues between the two countries are bilateral and he would not like to bother any other country with this. The summit in being held in southwestern France city of Biarritz. The countries which are part of the G7 include the UK, Canada, France, Germany, Italy, Japan, and the US. Though India is not a member of the G-7 grouping, PM Modi has been personally invited by the French President Emmanuel Macron.
Here are the live updates from G7 summit:
PM Modi leaves for home
Prime Minister Narendra Modi on Monday left for home after attending the G-7 Summit in this French town where he also held bilateral talks with a number of world leaders, including US President Donald Trump, and spoke on issues like climate change and digital transformation.
"Au revoir France! Closing the curtains on an action-packed 3-nation visit to France, UAE & Bahrain comprising of bilateral & multilateral engagements, PM @narendramodi departs for Delhi. Deepened India''s relations with friends, and projected our voice on the global stage," Ministry of External Affairs spokesperson Raveesh Kumar tweeted.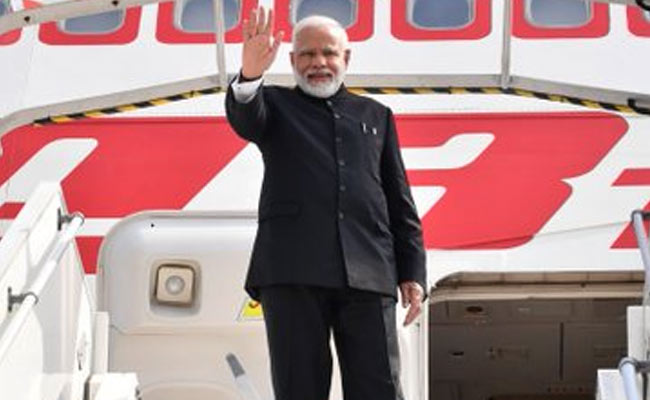 PM Modi, Donald Trump share a laugh at G7 summit
Prime Minister Narendra Modi and US President Donald Trump held talks today on the sidelines of the G-7 Summit in France. The camaraderie between the two leaders was on display during a joint media interaction before they got down to their discussions.

To a question about talks between the two leaders, PM Modi said in Hindi: "I think you should let us have the discussions first, then we will let you know whatever is needed."

President Trump then cut in: "He actually speaks very good English...he just doesn't want to talk." The two leaders then chuckled and clasped each others' hands. Many in the room burst into laughter.

Earlier, PM Modi asserted, sitting right next to President Trump, that all issues between India and Pakistan were bilateral and "that is why we don't bother any other country" on it.

The US President, who has repeatedly offered to mediate between the two countries, said: "We spoke last night about Kashmir, Prime Minister really feels he has it under control. They speak with Pakistan and I'm sure that they will be able to do something that will be very good."

He added: "I am good friends with both Prime Ministers, I am here but I think the two can manage it themselves."

The two leaders held 40-minute discussions in Biarritz, the French town which is hosting the meeting of the world's most industrialised nations.

PM Narendra Modi At Meeting With Donald Trump In France: All India, Pakistan Issues Bilateral
Signalling that Jammu and Kashmir remains a bilateral matter, Prime Minister Narendra Modi today said India and Pakistan were one before and are capable of solving their own problems."
PM Modi says India-Pakistan issues are all bilateral
At the meeting with US President Donald Trump, Prime Minister Narendra Modi said India and Pakistan have a number of bilateral issues which both countries have to solve together. "Both India and Pakistan have to fight against illiteracy, poverty and disease. And both countries have to fight against this together," PM Modi said.
The Prime Minister also said that there is no room for mediation by any third party. "Do not want to bother any other country with this (bilateral issues)," he said. He added India and Pakistan were one nation before 1947 and that the two countries can solve their own problems.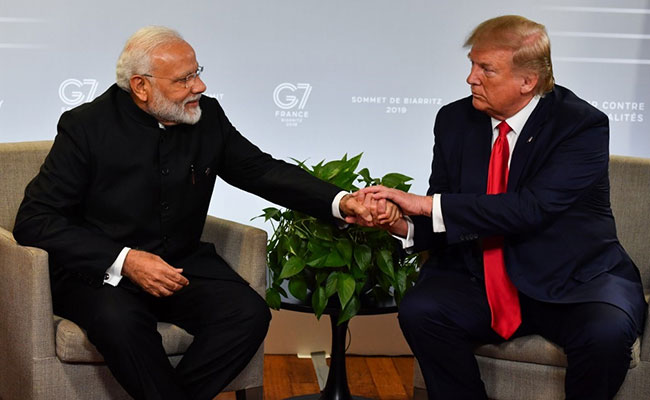 PM Narendra Modi says "All India, Pakistan issues bilateral in nature" at meeting with Donald Trump in France.
PM Modi attended a session of G7 summit on 'Biodiversity, Oceans, Climate'
PM Modi underlined India's contribution to address reducing biodiversity, climate change, water stress and ocean pollution, tweeted the Ministry of External Affairs.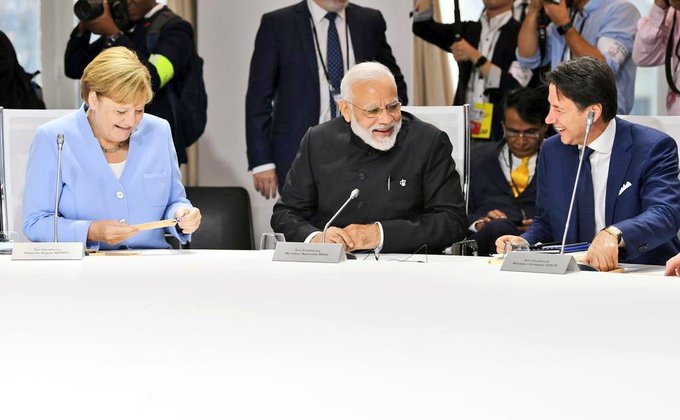 PM Modi Holds Bilateral Talks With Senegal President In France
Prime Minister Narendra Modi on Monday held wide-ranging talks with Senegal President Macky Sall here and the two leaders discussed ways to strengthen bilateral ties in various sectors, including cooperation in combating terrorism.
Kashmir, trade to dominate PM-Trump talks
The situation in Jammu and Kashmir and trade are high on the agenda as Prime Minister Narendra Modi meets US President Donald Trump today on the sidelines of the Group of Seven (G7) summit in France.
Mr Trump has spoken about "mediating" on Jammu and Kashmir and has described the issue as "explosive".
"The President will likely want to hear from Prime Minister Modi how he plans to reduce regional tensions and uphold respect for human rights for Kashmir, as part of India's role as the world's largest democracy," a senior US administration official said.
G7 wrestles with Iran, Amazon fires and trade
The summit saw a dramatic shift of focus when Iranian Foreign Minister Mohammad Javad Zarif flew in to discuss the diplomatic deadlock on Tehran's disputed nuclear programme.
The Iranian top diplomat didn't meet US President Trump, French diplomats said.
French President Macron holds meeting with Iran Foreign Minister
French President Emmanuel Macron has held a "positive" meeting with Iranian Foreign Minister Mohammad Javad Zarif, an Elysee Palace source said.
US, Japan finalise negotiations on new trade agreement
US and Japan have finalised negotiations on a new trade agreement that will enable Washington to increase its agricultural exports to the Asian country, US President Donald Trump and Japanese Prime Minister Shinzo Abe announced.
The agreement will allow US producers to increase their agricultural and livestock exports, along with other products, totalling "billions of dollars", Mr Trump said in remarks to reporters with Mr Abe, Efe news reported.
Both leaders said that certain details still remain to be ironed out in the final text, which could be signed next month during the UN General Assembly meeting in New York.
The accord focuses on three areas -- agriculture, industrial products and digital commerce.
G7 leaders vow to help Brazil fight fires, repair damage
Leaders of the Group of Seven (G7) nations said they are preparing to help Brazil battle fires burning across the Amazon region and repair the damage even as tens of thousands of soldiers got ready to join the fight against blazes that have caused global alarm.
French President Emmanuel Macron said the summit leaders were nearing an agreement on how to support Brazil and said the agreement would involve both technical and financial mechanisms "so that we can help them in the most effective way possible."
German Chancellor Angela Merkel said her country and others will talk with Brazil about reforestation in the Amazon once fires there have been extinguished.