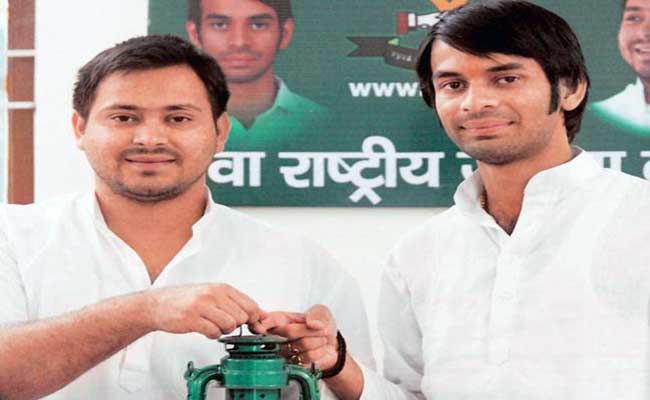 Highlights
Lalu Yadav's sons are ministers in Bihar
Tej Pratap Yadav "outed" by BJP as owner of petrol pump
Not disclosed in assets because it's not operational yet: Lalu's defense
Patna:
Lalu Yadav's son, Tej Pratap Yadav, who is a minister in Bihar, owns a petrol pump in the heart of Patna which he acquired illicitly and did not disclose as an asset as required, said opposition leader Sushil Kumar Modi today.
Manoj Jha, a spokesperson for Lalu Yadav's party, said the petrol pump is not operational yet which is why it has not been declared yet by the minister. He also said that the Yadavs have nothing to hide and that "everything is in the public domain."
Over the last month, Mr Modi, who is from the BJP, has held 10 press conferences where he has released documents that he says out the corruption that runs rampant in the Yadav family, which flat out denies the charges.
The prevailing theme of Mr Modi's allegations is that during his earlier stints including as the country's Railways Minister, Lalu, 69, obliged companies with contracts; in return, the companies bought valuable real estate which was transferred through shell companies to eventually end up as the property of Lalu's daughters and sons.
This, Mr Modi says, is how a two-acre plot on the outskirts of Patna which is now being developed as Bihar's biggest mall ended up with a company that has only Lalu's children as directors. The land was originally bought by a firm owned by an entrepreneur named Amit Katyal, who was allowed to set up a beer brewery in Bihar when Lalu's wife, Rabri Devi, was Chief Minister.
It's Mr Katyal's company, AK Infosystems, that in 2012 acquired the land where the petrol pump is now being constructed. A year before that, Tej Pratap Yadav had been given the license for the petrol pump - problematic because he allegedly did not have the land for it yet, according to the BJP leader. The land is now in the name of Lalu Yadav's older son, Tejashwi, who is Deputy Chief Minister of Bihar, and he has leased it out to his brother for the petrol pump. However, he did not disclose this land as an asset either.
Mr Katyal had last month denied any wrongdoing. Lalu and Tej Pratap Yadav have said that they have complied with disclosure guidelines to list the assets the young politician owns. When asked about his sons' extensive business interests (both are ministers), Lalu said recently, "Should my sons die in poverty?"