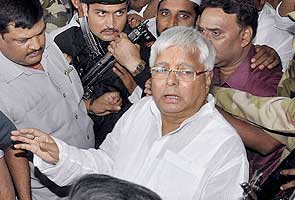 Ranchi, Jharkhand:
Lalu Prasad has been sentenced to five years in jail for corruption in a case linked to the massive fodder scam that unfolded while he was Chief Minister of Bihar. Mr Prasad stands disqualified as an MP now.
He has been in jail in Ranchi since Monday, when he was found guilty of facilitating the embezzlement of 37 crores of government money for fictitious medicines and fodder for cattle.
A spokesperson for Mr Prasad's party, the Rashtriya Janata Dal or RJD, said "It has never been as united as it is now" and announced it will appeal against the verdict. Lalu and other convicts in the case heard the verdict via video conference.
Another former chief minister of Bihar, Jagannath Mishra of the Congress, was sentenced to four years in prison. Jagdish Sharma of the ruling Janata Dal United, also got a four-year sentence which means he is no longer a member of parliament.
The Supreme Court in July ruled that law-makers convicted in cases with a sentence of more than two years stand disqualified immediately. The government yesterday withdrew an ordinance that sought to nullify that. The executive order was derided as "nonsense" by Congress vice-president Rahul Gandhi, and the opposition had said the ordinance was introduced in a rush to protect Mr Prasad, who has been a close ally of the minority government. His party has four Lok Sabha MPs.
Mr Prasad reportedly does not favour appointing an interim head for the RJD, while he appeals to the High Court for relief. If he is not granted bail by a superior court, he will have to look at who can lead the party in his stead, as party cadres get restive and political rivals eye his not unsubstantial vote bank.
His wife Rabri Devi, who has been chief minister of Bihar thrice, has said she and her son will run the party "like Sonia Gandhi and Rahul Gandhi run the Congress."