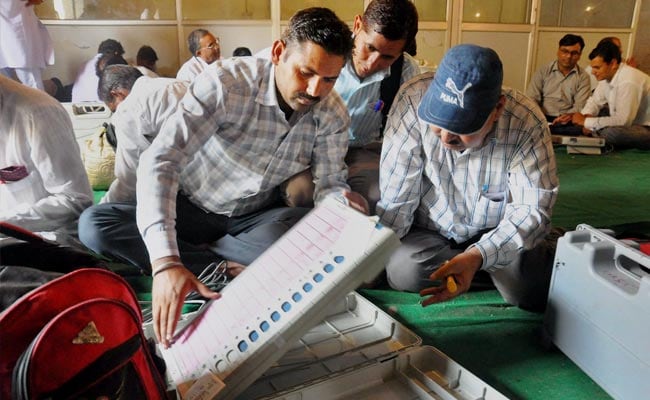 Lucknow:
All the three major parties in Uttar Pradesh seem confident of winning the maximum number of seats in the just-concluded assembly polls. The BJP has even ordered '
laddoos
' and booked music bands ahead of Saturday's vote count. Many contestants are also seeking God's blessings and making visits to various temples.
BJP state General Secretary Vijay Bahadur Pathak said the party leadership said it would be a "Vijay ki Holi" and they are geared up for March 11.
Preparations for ballot counting have already completed at the 75 centres across the state, said poll officials.
At first, postal ballots will be counted. After that the seals of the electronic voting machines (EVM) will be broken in front of contestants, party representatives and Election Commission officials.
Anurag Bhadouria, Congress candidate from Lucknow East, said he had gone to the Sai Baba temple in Shirdi. Archana Dixit, wife of BSP candidate Yogesh Dixit, said the family will visit the Hanuman Setu temple in Lucknow after the result.
"We have done a lot of hard work and I am sure we will win," she said. After the polling was done in Lucknow, the family had visited the famous Pashupatinath temple in Kathmandu to seek blessings of Lord Shiva.
Former Uttar Pradesh Congress chief Rita Bahuguna Joshi, who switched loyalties to the BJP ahead of the polls and re-contested from Lucknow Cantt, also visited a temple.
BJP's state women's wing chief Swati Singh, who contested the election from Sarojini Nagar constituency in Lucknow, said she had gone on a pilgrimage of Banke Bihari temple in Mathura.
"I have been travelling a lot, campaigned for the party and have also visited the Bhrigu temple in Ballia to pray for my victory," she said.
BSP candidate Shankari Singh is performing hawans and is hopeful of her win while Aparna Yadav, the younger daughter-in-law of Samajwadi Party patriarch Mulayam Singh Yadav, who is contesting her first elections from Lucknow Cantt, has just returned from Patna Saheb and is hoping to win.