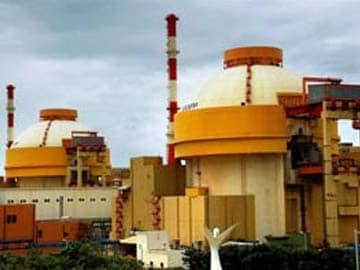 Chennai:
Kundankulam Nuclear Power Plant (KNPP) today attained its full generation capacity that is of generating (1,000 MW of power), its site Director R S Sundar said.
"At 13.20 hours today, Unit I of Kudankulam Nuclear Power Plant started generating its full capacity of 1,000 MWe of power. We will run it for some more time before we stop the unit for conducting some tests as mandated by AERB (Atomic Energy Regulatory Board)," he told PTI over the phone.
He also said that of all the sources of power available in the country, units of KNPP had the capacity to produce large amounts of power from a single unit.
"If you take other plants, they can produce only around 540 MWe of power. In the case of thermal plants it could go up to 660 or 680 MWe. Another 700 MWe unit is presently under construction. So KNPP is the first unit in the country to produce 1,000 MWe of power," he said.
Later in a statement, Mr Sundar said "power has been achieved 100 per cent" after conforming to all criteria for system performances as per design requirements, meeting all stipulated statutory and regulatory requirements and final clearance from AERB, based on the report of observer's team, safety review committee and Russian specialists.
He said this is the 21st nuclear power reactor in the country and India's first Pressurised Water Reactor belonging to Light Water Reactor category.
"KNPP Units 1 and 2 are VVER-1000 type reactors set up at Kudankulam in Tamil Nadu with technical cooperation with the Russian Federation," he
said.
On safety issues, he said the KNPP reactors incorporate enhanced safety features ensuring highest level of safety, in line with current international standards.
"These are Generation III+ reactors incorporating a combination of active and passive safety systems like Passive Heat Removal System, Hydrogen Re-combiners, Core Catcher, Hydro Accumulators and Quick Boron Injection System. This combination of multi-layered safety features ensures safety of the plant, public and environment," he said.
Till date, cumulative generation from Unit 1 of KNPP was around 1,900 million units, he said.
KNPP's unit 1 has been contributing to the power-starved Tamil Nadu since October 2013.
Nuclear Power Corporation of India Ltd (NPCIL) has collaborated with Russia to set up two 1,000 MWe reactors at Kudankulam in Tirunelveli district in Tamil Nadu.
Unit 1 attained criticality in July 2013. Power generated from this unit would add 1,000 MW to the southern grid.
Anti-nuclear activists and People's Movement Against Nuclear Energy (PMANE) have been spearheading more than a two year old protest against KNPP in Tirunelveli, demanding its closure, citing safety reasons.
Get Breaking news, live coverage, and Latest News from India and around the world on NDTV.com. Catch all the Live TV action on NDTV 24x7 and NDTV India. Like us on Facebook or follow us on Twitter and Instagram for latest news and live news updates.