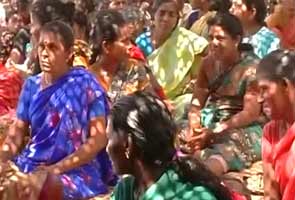 Chennai:
The Madras High Court has dismissed a petition seeking lifting of prohibitory orders (Section 144 of the Indian Penal Code) around the Kudankulam nuclear plant.
The petition, filed by P Pugalenthi, an advocate and Director of Prisoners Rights Forum, contended that depriving the people of their fundamental right of free movement in the name of maintaining public peace and tranquillity was a violation of constitutional norms.
The orders were imposed ever since Tamil Nadu Chief Minister J Jayalalithaa gave the go-ahead to begin work at the controversial plant last week.
Many villagers have been protesting for the last seven months against the setting up of the plant. The agitators include People's Movement Against Nuclear Energy coordinator S P Udayakumar, spearheading the protest against the project.
(Kudankulam protests against nuclear plant: 10 big facts)
In September, the Tamil Nadu Cabinet had passed a resolution demanding that the Prime Minister order a halt of operations at Kudankulam till those living in the area were convinced that they are not at risk.
Dr Manmohan Singh then deputed experts and ministers to assess the plant and answer the questions of villagers. Chief Minister J Jayalalithaa had also commissioned her own panel of experts to study the plant. Her clearance for the project came right after an important by-election in the Tirunelveli district, where the plant is located. In an attempt to pacify the area, she announced a Rs. 500 crore package to improve roads and infrastructure in the area.
The nuclear power project, worth Rs. 13,000 crores and being set up with assistance from Russia, will upon completion have six reactors, making this will India's largest power-generating complex. A pair of two 1,000-megawatt reactors will kickstart production.
The protesters, mostly fishermen from three districts, are worried that the seaside plant may damage the ecosystem with nuclear waste and ruin their livelihoods.
The Prime Minister's recent remarks that protests against Kudankulam were possibly receiving foreign funding provoked much anger among NGOs.