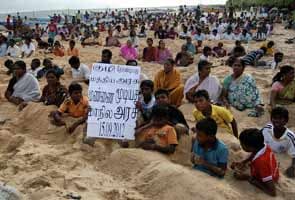 Idinthakarai, Tamil Nadu:
Around 200 anti-nuclear activists in Tuticorin have been released after being in detention for a few hours today. The activists were detained while they were heading to Idinthakarai, the venue of protest against the Kudankulam nuclear plant in Tamil Nadu.
The activists were set to join the villagers who have buried themselves neck-deep in sand along the shore, demanding a halt to the preparations for loading of fuel into one of two nuclear reactors at the controversial plant.
On Friday, Satishkumar - a close associate of SP Udhayakumar, the activist who is leading the protests - was arrested in Chennai for trying to "instigate" the fishermen there to join the stir against the Kudankulam Nuclear Power Project (KNPP).
Meanwhile, the search for Mr Udhayakumar is still on, police said. He had announced that he would surrender on Tuesday night, but later did a U-turn.
More than 4,000 police personnel, bolstered by the Rapid Action Force, have been deployed to maintain strict vigil in Kudankulam town. Coast Guard aircraft and ships were deployed for surveillance at sea off Idinthakarai during the protests by locals and activists.
The Supreme Court had, on Thursday, refused to stop the loading of fuel into the nuclear reactor at the Kudankulam plant, stressing at the same time that the safety of the people is of prime importance.
Get Breaking news, live coverage, and Latest News from India and around the world on NDTV.com. Catch all the Live TV action on NDTV 24x7 and NDTV India. Like us on Facebook or follow us on Twitter and Instagram for latest news and live news updates.