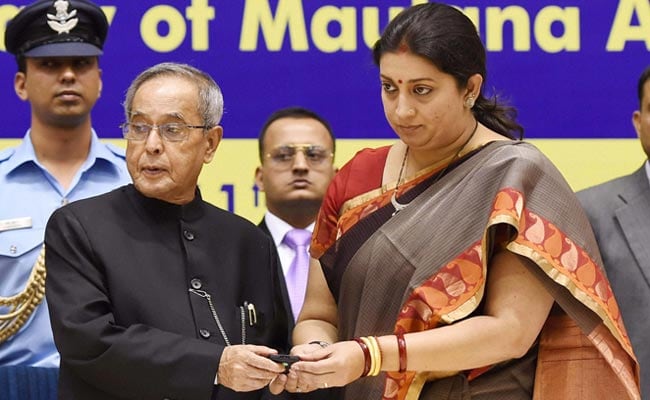 New Delhi:
The government's decision to drop German as an alternative to Sanskrit as a third language in Kendriya Vidyalayas, has not gone down well with Germany.
Sources say that the German government is extremely disappointed by the decision and that Chancellor Angela Merkel is likely to raise the issue with Prime Minister Narendra Modi tomorrow in Australia where the leaders have gathered for the G-20 Summit.
Speaking to NDTV, German Ambassador Michael Steiner said Indian Constitution will not be violated by teaching German. "I am a fervent supporter of Sanskrit, I believe cultural identity is important but look at the globalised reality," Mr Steiner said.
"79,000 students at Kendirya Vidyalas are being directly affected and Chancellor Merkel is well aware of the situation," he added.
Education Minister Smriti Irani has, however, said the decision was taken in national interest.
Over 70,000 students across 500 Kendriya Vidyalayas from classes 6 to 8 will be asked to switch from German to Sanskrit, say officials.
Sources say the minister has ordered an investigation into how this was allowed; the 2011 Memorandum of Understanding that made German a third language "violates the national education policy", said officials. The pact was signed between the Kendriya Vidyalayas and Goethe Institute-Max Mueller Bhawan and was allegedly not referred to the ministry though it was signed in the presence of E Ahmed, then the Minister of State for Human Resources Development.
"The MoU was against our rules. Our formula of three languages will not be violated," Smriti Irani said.
In the three-language formula, schools teach Hindi, English and a modern Indian language - Sanskrit is said to be a popular option in northern states.
The Board of Governors of the Kendriya Vidyalayas, which Ms Irani heads as minister, has, however, retained German as an optional 'hobby' language.
Sanskrit teachers had moved the Delhi High Court alleging that the central schools had introduced German as a third language in place of Sanskrit against the education policy.
Meanwhile, the PMK, a Tamil Nadu ally of the BJP, has criticised the decision to replace German with Sanskrit and has urged the Centre to revoke its decision.