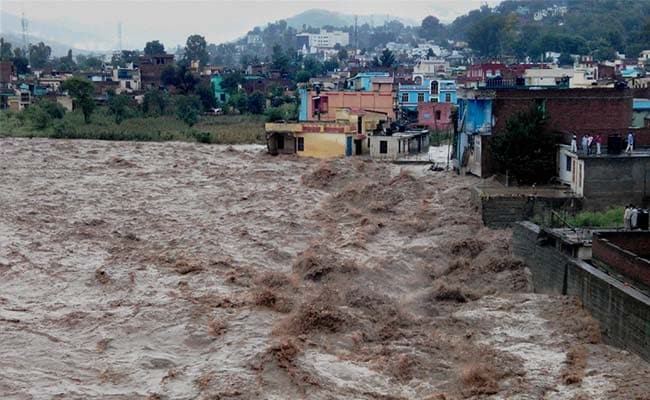 Srinagar:
Environmentalists say last year's devastating flash floods in Uttarakhand, in which at least 5,000 were killed, and the unprecedented deluge in Jammu and Kashmir this year, both have the same cause - urbanization, reduced forest cover and erratic monsoon.
Authorities in both states ignored warnings from weathermen, magnifying a disaster waiting to happen.
At least 150 have been killed in Jammu and Kashmir, where large parts have been submerged, and tens of thousands are waiting to be rescued.
The meteorological department says it had issued warnings about very heavy rainfall in Jammu and Kashmir practically every day since September 2. But while a few families did move to higher regions, the state government seems to have failed to anticipate the extent of the crisis and effectively convince those who stayed back.
The situations in Uttarakhand and Jammu and Kashmir are uncannily similar, experts say. In both cases the trigger was incessant rain, set off by the merging of the western disturbance and the monsoon.
In Uttarakhand, the devastation was worse because of deforestation, and construction on the river bed. Houses were built either on or dangerously close to the river banks, which raised the human cost of the disaster. "It is a similar pattern in parts of J&K also," said Chandra Bhushan, deputy director general of Delhi-based Centre for Science and Environment.
Monsoon in India has always been tough to predict. And some scientists say that rainfall patterns are getting frequently more erratic. In Srinagar, the average rainfall for September 5 is 0.4 mm. But this year's figure was 49mm - 122 times more.
"These events of intense rainfall have been increasing and we will have to learn how to adapt to them. Part of that process is ensuring that we build wisely and in safe areas," adds Mr Bhushan.
The other form of caution is to pay close attention to weather forecasts and act on time. Done right, it is effective - as was seen during the Cyclone Phailin, which hit the Odisha coast last year. The Odisha government's preparedness ensured that the loss of life and property were minimum.