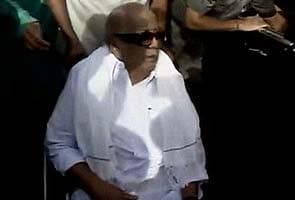 New Delhi:
DMK Rajya Sabha MP Kanimozhi had a special visitor today at Tihar Jail, where she has been lodged since Friday.
Her 87-year-old father, DMK chief M Karunanidhi came to Delhi and spent about an hour with his youngest child. He entered the jail premises through a side gate to meet his daughter.
Jail rules provide that all meetings must finish by 5 pm, but a Tihar Jail public relations official (PRO) told NDTV that rules had been bent a little for the former Tamil Nadu Chief Minister. A meeting with a jail inmate, the PRO said, can also stretch up to an hour with special permission from the jail superintendent.
The former Tamil Nadu Chief Minister flew down on Monday morning for what was to have been a day-long trip. He stayed at the Taj Mansingh Hotel in New Delhi and was scheduled to leave in the evening. But the DMK chief cancelled his flight tickets to Chennai after meeting Kanimozhi. His older son MK Alagiri accompanied him to Delhi. His younger son MK Stalin will reach Delhi tonight.
Kanimozhi's mother and husband are already in Delhi.
The young DMK MP was arrested on Friday after her bail plea was dismissed by a special Delhi court. She has been named a co-accused in the 2G case by the CBI. She moved the Delhi High Court today for bail. (
Read
)
After being arrested on Friday and spending her first night in jail, a stoic Kanimozhi had appeared in court on Saturday morning along with others accused in the case. She managed a smile as she met her husband and greeted party workers waiting outside the court for her. Her mother, Rajathi Ammal, however, had broken down. Surrounded by many party workers, the two then sat together in the court, holding hands.
"I'm ok. Have to now deal with whatever comes my way," Kanimozhi told NDTV in court on Saturday.
Kanimozhi has been chargesheeted by the CBI for allegedly conspiring with former Telecom Minister A Raja and accepting a Rs. 214-crore bribe via Kalaignar TV. Raja, a DMK MP and a Dalit leader, has been in Tihar Jail since February for allegedly planning and executing the 2G scam when he was Telecom Minister in 2008. A company that he favoured allegedly sent him the massive bribe.
The bail plea of Kalaignar TV Managing Director Sharath Kumar was also rejected by Special CBI Judge OP Saini on Friday. He too was taken to jail. Kanimozhi and Kumar hold 20 per cent stake each in Kalaignar TV, while former Tamil Nadu Chief Minister M Karunanidhi's wife and Kanimozhi's step mother Dayalu Ammal holds 60 per cent share.
Justice Saini said bail had been dismissed due to the magnitude of the crime and given the seriousness of the allegations, he was unable to show any consideration to her being a woman. Kanimozhi's lawyer had argued that she should be given reprieve on the grounds that she was a woman and mother to a young child. Bail has not been granted to any of the accused in the case.
Kanimozhi is lodged in jail number 6 (women's cell) and ward number 8 in Tihar Jail. Her new neighbours include Madhuri Gupta - a former Indian diplomat charged with spying for Pakistan's Inter-Services Intelligence (ISI) and Sharda Jain, a murder accused.