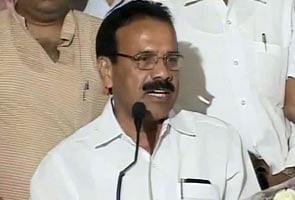 Bangalore:
BS Yeddyurappa may have lost the chair, but he has had his way. His man, Sadananda Gowda, will be Karnataka's new Chief Minister.
(Read & Watch: Who is Sadananda Gowda?)
It was a battle not won easily. The BJP's 121 MLAs voted for Mr Gowda, who is a Lok Sabha MP, through secret ballot at a legislature party meeting held at Bangalore's Capitol Hotel on Wednesday afternoon. Senior BJP leaders Arun Jaitley and Rajnath Singh supervised the voting, once it was clear that no consensus on one name was possible.
Mr Gowda polled over 68 votes to beat Jagadish Shettar of the rival Ananth Kumar camp. Of the 121 BJP MLAs, 118 voted. The affable Mr Gowda, known to ever smile, is widely seen as a proxy candidate for Mr Yeddyurappa, who had to step down on Sunday, but has declared that he shall be back soon. Mr Gowda has never been a minister and so is yet to demonstrate key administrative skills. But he has played an important role in Karnataka politics, has been state BJP president and also a Deputy Speaker. His first statement after being chosen was a measured one, of little political significance. He thanked the central observers and "promised a pro-development and people-friendly government."
However, his victory was diminished by the Governor's decision this morning to allow Mr Yeddyurappa's prosecution under the Prevention of Corruption Act. (
Read: Prosecute Yeddyurappa, says Karnataka Governor
)
BS Yeddyurappa: Super-Chief Minister?

Mr Yeddyurappa had quit as Karnataka Chief Minister reluctantly, days after the Santosh Hegde report on illegal mining severely indicted him and his family. His resignation was accompanied by the usual political drama - clinging to the chair till he could, then picking a propitious time to resign and finally, a massive show of strength as he walked in the rain to the Raj Bhawan flanked by his 70 MLAs.
In all that, Mr Yeddyurappa also made clear that while he was acceding to party wishes that he quit, only a person of his choice should be his successor - he had given the party high command a list of three leaders, one of whom he wanted as CM. Mr Gowda, one of them.
Mr Yuddyurappa also insisted that he should have a say in picking at least 50% of the new Cabinet. BJP leader Dhananjaya Kumar said today that all ministers named in the Hegde report, including the powerful Reddy brothers of Bellary, would have to step down till cleared of charges against them.
Sources today said that the Reddy brothers can lose their Cabinet posts. Janardhana Reddy is the Tourism while his brother Karunankara hold the revenue portfolio.
Caste equations, which matter much, too were at the heart of this fight for the top position. Mr Yeddyurappa belongs to the powerful and dominant Lingayat community which has a huge 18% vote in Karnataka. The Ananth Kumar camp, it is believed, wanted Jagadish Shettar, also a Lingayat, to be CM to neutralise Mr Yeddyurappa's indubitable influence. On the other side, the Yeddyurappa camp was pushing for Sadananda Gowda, who is a Vokkaliga, another dominant community. Mr Gowda in the saddle means that Mr Yeddyurappa remains the Lingayat strongman.
Now, with a Vokkaliga leader set to be CM, Karnataka watchers have wondered aloud if the BJP will get in a Lingayat Deputy Chief Minister, perhaps even Mr Shettar. There has been no mention of that from the BJP yet though.
Deep factionalism in the BJP

Today's meeting began late as the central leaders struggled to find a consensus on one name. MLAs arriving at the hotel in buses, cheering loudly for Mr Yeddyurappa - he claimed he had the support of over 70. Another lot showed up brandishing the Victory sign - they were part of the camp of about 50 MLAs led by Ananth Kumar. Each leader sought to convince the central leaders that his man be the next CM.

So divided is the BJP at the moment that there were differences even in the way the two camps wanted the voting done - the Yeddyurappa camp wanted open voting while the Ananth Kumar camp favoured the secret ballot.
Who is Sadananda Gowda?
Sadananda Gowda, 58, is an MP from Udupi Chikmagalur. He has been BJP state president and a non-controversial one - a considerable feat in a unit that has several power centres. Gowda has also been an MLA and deputy leader of the Opposition in the Karnataka Assembly. The Vokkaliga leader has a law degree and was a sportsman in college.
The affable Gowda lists chatting with family and friends among his interests. He has one son - and has so far had no allegations against him of corruption or nepotism. Issues that led to Mr Yeddyurappa's ouster.