LUCKNOW:
There was a sense of relief in the Rajendra Kumar Nishad household earlier this year when Chief Minister Yogi Adityanath government announced a waiver of loans taken by small and marginal household. The 65-year-old farmer had an outstanding loan of 80,000 rupees from 2009. It was for a bore-well in his small farmland in the outskirts of Kanpur district, about a 100 km from state capital.
But he did not realise there may be a fine-print.
Last month, the Uttar Pradesh Sahkari Gram Vikas Bank sent a notice for recovery of the bank loan.
If he didn't pay back the money, totalling 1.91 lakh with interest, within the next one month, the bank would proceed to auction his 1.08 hectare, or 10,800 sq metre, farmland to recover the money, the notice sent out on 12 May said.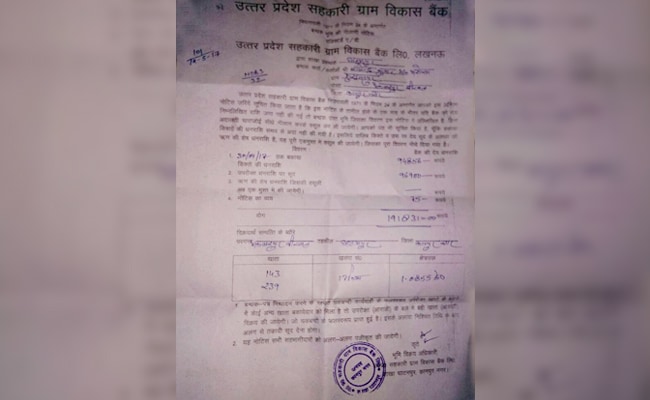 Rajendra Kumar tried to raise the money but didn't get far.
On Thursday, he was found hanging from a tree.
His family said they defaulted on repaying the loan because crops failed and they never made enough money to repay the loan.
"He had been very disturbed since then (receiving the notice). He said he had wanted to return the loan but did not have the money," said Prem Shankar, Rajendra's younger brother.
Bank officials told NDTV that the state government's loan waiver scheme that is costing tax-payers more than 36,000 crore rupees did not cover Rajendra's loan. The waiver is for crop loans; Rajendra's loan was for a bore-well in his farm.
The local police said they hadn't reached any conclusions yet and was looking at all angles. "We are investigating. But I must point out that he was in jail between 2005 and 2008 on a murder charge. His wife and son still in jail in in that murder. So we will investigate all angles," an area police officer said.