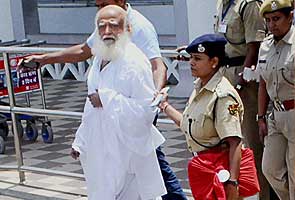 Jodhpur:
A local court has given the Jodhpur police one-day custody of religious preacher Asaram Bapu, arrested last night from his Indore ashram for allegedly sexually assaulting a 16-year-old schoolgirl.
The police have taken the spiritual leader to his Mania ashram, 35 km from Jodhpur, where the teenager was allegedly assaulted on August 15. A chargesheet will be filed after the probe is completed, police said.
Cops in Jodhpur said Asaram is medically fit and cooperating with the investigation. He has denied the allegations so far, a senior police official said today.
Having evaded the law for 12 days, the religious preacher now faces some tough questions. (
Read
)
The Rajasthan police is probing why a minor girl was brought to the self-styled godman on the suggestion of his gurukul's hostel warden when police have found no evidence of the minor's illness.
Asaram's supporters, meanwhile, have launched a pressure campaign with protests in Delhi, Mumbai, Patna and Bhopal calling the arrest a conspiracy against their leader.
A political blame game has also started over the arrest with senior Congress leader Digvijaya Singh questioning the silence of top Bharatiya Janata Party leaders on the controversial guru.
"The most vocal voice of BJP against atrocities against women has been Sushma Swaraj. Why is she quiet in Asharam Bapu's case?" tweeted Mr Singh last night.
To which Ms Swaraj responded, "In our country we have a law that is same for everybody. There is no one big and no one small and law will take its own course."
Digvijaya's tweet coincided with a picture of him seeking Asaram's blessings, when he was the Chief Minister of Madhya Pradesh, being shared on social networking websites.