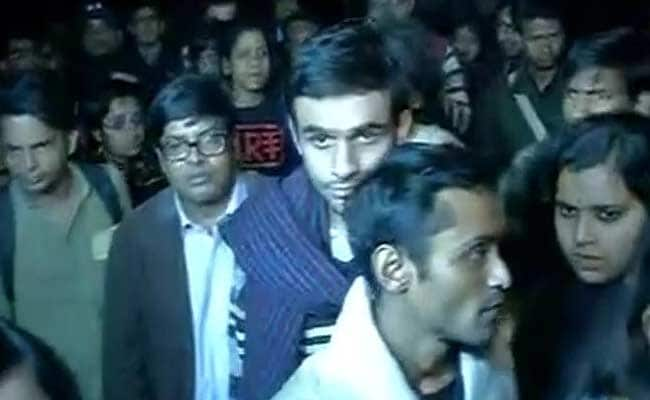 Highlights
JNU's Umar Khalid, Anirban Bhattacharya surrender, questioned by police
Delhi High Court had rejected their plea to surrender at secret location
They might be produced in front of a magistrate in police station itself
New Delhi:
JNU students Umar Khalid and Anirban Bhattacharya
, accused of sedition, surrendered at midnight and
were driven around for almost two hours by policemen who wanted to dodge the media.
The
students' request to surrender at a secret location was rejected by the High Court
yesterday.
At around 11.40 pm, the two drove to the JNU campus gates in a university security van. Scores of students formed a chain around Mr Khalid and Mr Bhattacharya as they left.
The police drove around for almost 10 km to avoid the media before taking the students to a police station less than a kilometre from the university. The students reached the police station after 2 am.
Sources say the students were questioned for five hours before being arrested.
"Umar and Anirban have faith in the judiciary,"
JNU
Students Union vice president Shehla Rashid told NDTV.
The
two students have been charged with sedition
for allegedly organizing an event on February 9 to mark the anniversary of the hanging of terrorist Afzal Guru, in which anti-India slogans were raised. They had been missing since February 12, along with three other accused students. All five surfaced on campus on Sunday night.
On Tuesday, Mr Khalid and Mr Bhattacharya went to the High Court for permission to surrender at a secret location. They cited the attack on their comrade Kanhaiya Kumar by lawyers when he was being taken to court for a bail hearing last week.
The court, however, said: "You can't use your whim and fancy. You have to follow the procedure, surrender or arrest."
Kanhaiya Kumar, the JNU student's union president, was arrested earlier this month over the controversial event. He is in the Tihar Jail.
His bail plea will be heard by the high court on February 29.