Highlights
Yashwant Sinha, BJP veteran, says party has "lost moral high ground"
Claim based on allegations against BJP chief Amit Shah's son
Sinha recently attacked economic slowdown, was rebutted by government
Patna:
After his recent slapdown of the government's handling of the economy, former union minister Yashwant Sinha today said that his party has "lost the moral high ground" due to a corruption scandal involving the son of its chief Amit Shah.
Yashwant Sinha
, 79, said that the BJP appears guilty of many lapses: producing senior ministers to defend Mr Shah's son, entrepreneur Jay Shah, and
farming out a top government lawyer, Tushar Mehta
, to represent Jay Shah in court.
Jay Shah has sued
The Wire
, a news website, for 100 crores for defamation for reporting his firm's revenues escalated by 16,000 times after the BJP came to power. The report also questioned allegedly unsecured loans given to Jay Shah's firms, including from a state-run firm that reports to the Power Ministry.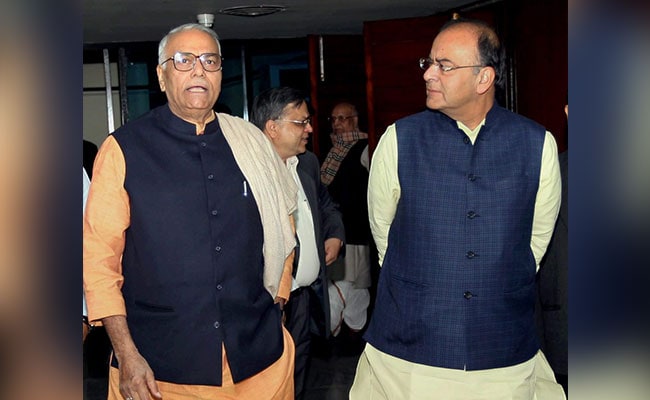 "The way the loan was given to Jai Shah by the Power Ministry and the way (minister) Piyush Goyal defended him, it gives the impression that there's something wrong," said Mr Sinha, whose son, Jayant Sinha, is a minister in the union government.
"Even Additional Solicitor General (Tushar Mehta) representing a private individual in court is something that never happened before," Mr Sinha, a former finance minister, said in Patna. Mr Mehta said he sought and obtained the clearance of the Law Ministry to advise Jay Shah.
"The government should order an inquiry because too many government departments are involved," said Mr Sinha, backing what the opposition has demanded. "The BJP has lost the high moral ground of zero tolerance on corruption," he added.
Last month, Mr Sinha provoked his party by expounding in detail on the economic slowdown which he attributed to the poor timing and handling of the key reforms of demonetisation and the new national sales tax or GST. Finance Minister Arun Jaitley, whom he singled out for sharp criticism, responded by describing the party veteran as "
a job applicant at 80."
Prime Minister Narendra Modi in a lengthy speech last week said that pessimists were misrepresenting the slowdown of one quarter (5.7 percent growth for the last quarter) to claim an economic failure.