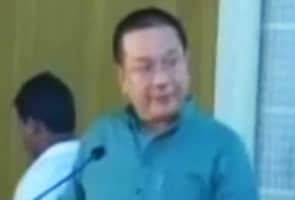 Itanagar:
Jarbom Gamlin was sworn in as Chief Minister of Arunachal Pradesh on Thursday night replacing Dorjee Khandu who was killed in a helicopter crash.
Gamlin, 50, who was Power Minister in Khandu Cabinet, was administered oath of office and secrecy by Governor J J Singh at the Raj Bhavan.
A student of History and Law of Delhi University, he was one of the front-runners for the Chief Minister's post as a CLP meeting earlier in the day authorised Congress President Sonia Gandhi to choose the new leader.
Other contenders were Arunachal Pradesh Congress Committee (APCC) president and PWD Minister Nabam Tuki, Finance Minister Setong Sena and RWD Minister Kalikho Pul.
A CLP meeting, at which top Congress leaders including Union ministers B K Handique, V Narayansamy, Mukul Wasnik and Salman Khursheed were present, failed to arrive at a consensus and sent a one-line resolution to the Congress President to choose the CLP leader.
A senior party leader said on condition of anonymity that Congress legislators were interviewed individually by top leaders, including Handique, Narayansamy, Wasnik and Khursheed.
Earlier in the day, indication of the installation of a new Chief Minister came from Home Minister P Chidambaram who told reporters in New Delhi that the Governor had been asked to take "necessary consequential steps".
The swearing-in of Gamlin, a leader of powerful All Arunachal Pradesh Students Union in early 1980s, came several hours after the body of Khandu, who died in the copter crash along with four others in Tawang district, arrived here.