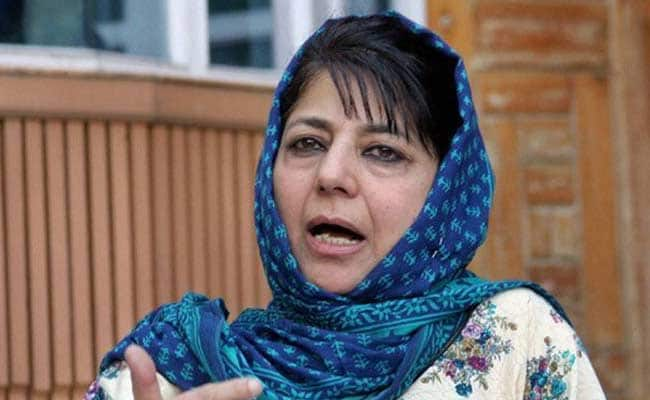 New Delhi:
Ahead of the by-polls in Jammu and Kashmir, Chief Minister Mehbooba Mufti today raked up the issue of revocation of controversial Armed Forces Special Powers Act (AFSPA) from some areas and "see the impact".
Ms Mufti, who has taken a strong position against militants, pitched for revocation of AFSPA, saying she required a "window of peace" for ensuring good governance to "shrink the space" occupied by militants.
She said PDP and BJP had come together on an Agenda of Alliance which included revocation of AFSPA.
"We should not shy away from revocation of AFSPA. When things improve, why not?" she said.
"We don't shy away when situation goes bad. We don't shy away from calling more forces...we ask army to be more proactive, but when the situation improves, we should not shy away from the fact we need to start revocation of AFSPA from some places and see what is the impact," she said while addressing a seminar on counter terrorism here.
The conference is being organised by India Foundation, a think tank run by Shaurya Doval, the son of National Security Advisor A K Doval. Four Union Ministers and BJP leaders, including party general secretary Ram Madhav, are on its board.
She also said when the situation improves, there was a need for shifting security camps "away from public".
Referring to her brother Mr Tassaduq, who has been declared PDP candidate for Anantnag Lok Sabha seat vacated by her, Ms Mufti said her brother "wants to see our kids chasing birds and butterflies rather than have stones in their hands".
Mr Tassaduq is a cinematographer and has been part of Bollywood hits like 'Omkara'.
Ms Mufti appealed to Prime Minister Narendra Modi for initiating talks with "all stakeholders" for a lasting solution to the Kashmir problem.
"We need to have dialogue as was done by former Prime Minister Atal Bihari Vajpayee. I am sure our present Prime Minister, who has the moral authority, will take steps at the earliest. We have a bold leadership at this point of time," she said.
"We have used pellet guns, guns, hand grenades, teargas. We can't continue with that. They (the protesters) are part of India. Kashmir is the jewel in India's crown," she said.
Appealing for a "window of peace", she said, "Good governance helps in shrinking the space of terrorists. Please give me that."
By-polls for Anantnag parliamentary and Srinagar assembly seats are slated for April 12 and 9 respectively.