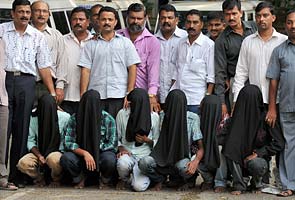 Mumbai:
Sixteen days after he was shot dead while riding his two-wheeler through a busy Mumbai market, the police says it has figured out why journalist J Dey was murdered. The Chhota Rajan gang allegedly paid assassins five lakhs to eliminate the reporter, known for his investigative pieces on the underworld and more recently, the oil mafia.
Seven men were arrested in the last few days by the Mumbai Police; among them, a man named Satish Kalia, widely acknowledged as a gun for hire for the Chhota Rajan gang.
Twenty days before Mr Dey was shot, Chhota Rajan, according to the police, called Mr Kalia and ordered the hit. Mr Kalia put together a gang of seven people for the assignment. The men were paid 5 lakhs for the murder. They did not know who Mr Dey was, or his line of work. They were given a description of his physical appearance, and the license plate details of the two-wheeler he used.
On June 11, they tracked him down in Mumbai's Powaii suburb. Two motorcycles pulled up alongside Mr Dey. A Qualis followed close behind. Mr Kalia, who was riding pillion on one of the bikes, shot Mr Dey five times at close range with a Czech-made revolver.
Once TV channels and other media began reporting on Mr Dey's death, the gang of hitmen panicked as they learnt of the identity of the man they had killed. They dispersed to towns in Maharashtra, Karnataka and Tamil Nadu and were finally arrested in Rameshwaram, Solapur and Mumbai.
The police refused on record to state why Chhota Rajan wanted Mr Dey dead. Off camera, officers suggest that Mr Dey had been close to the Chotta Rajan gang.
Police sources say that lately, however, the gang worried that Mr Dey was showing loyalty to its rivals.
When he was first killed, the police and the government stated that Mr Dey had been killed most likely as a result of professional enmity. Now, they say he was killed as a result of personal rivalries.