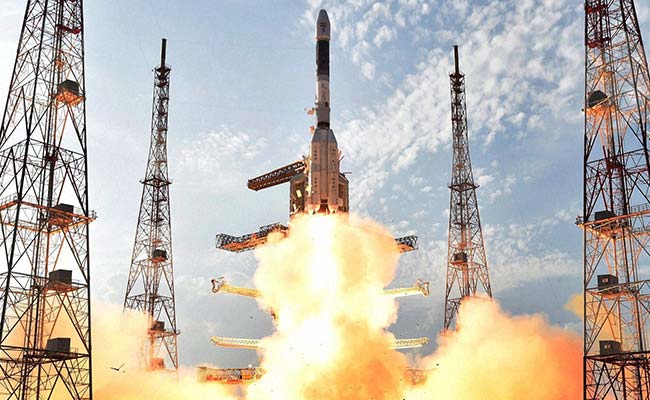 New Delhi: After a hiccup or two, the Indian Space Research Organisation or ISRO's much-loved "Naughty Boy", the GSLV rocket, shot into the blue on Thursday, carrying India's 11th satellite - the INSAT-3DR. The picture-perfect launch came after an initial delay of 40 minutes, which insiders in the ISRO had attributed to an "anomaly".
The first operational launch of the GSLV (Geo-synchronous Satellite Launch Vehicle) is a huge step ahead for India, which had decided in the late '80s to develop a launcher for its satellites to stop having to depend on foreign rockets and providers.
But the GSLV's success opens new vistas -- it will be the vehicle to launch the nation's second moon mission -- Chandrayaan-2 -- next year. It will also smooth the nation's path to the multi-billion dollar commercial space launcher market.
"Today we have achieved another landmark, the first operational flight of the GSLV and the INSAT 3 DR has been put in orbit. The launch vehicle has performed extremely well," said Kiran Kumar, the chairman of ISRO.
Though this is GSLV's first operational launch, the 415-tonne rocket is being tested for the tenth time. But it has had a patchy record, with five of its nine flights resulting in failure - the regular 'misbehaviour' leading to the nickname "Naughty Boy".
ISRO had attributed today's delay in launch to an 'anomaly' -- sources said "issues" had crept in over the filling of propellants for the cryogenic engine that took nearly two decades to develop.
Cryogenic engines are special rocket engines that use liquid oxygen and liquid hydrogen as fuel. The extremely cold temperatures of these liquids make them tricky to operate. It took ISRO 20 years to master the cryogenic technology after Russia reneged on a deal to transfer it in the early 1990s at the behest of the US.
The GSLV rocket is almost 49 meters high -- as much as a 17-floor building. It weighs 415 tons -- as much as the combined weight of 80 full grown elephants.
The 2211-kg INSAT 3DR that's piggybacking on the GSLV will eventually be pushed into orbit 36,000 km above Earth.
The advanced meteorological satellite will provide a host of data, including sharper night-time pictures. It also carries a special search and rescue transponder, which will help in satellite-aided rescue.
Together, the GSLV and the satellite cost around Rs 400 crore - roughly half of what it might cost to buy and launch a satellite from an overseas vendor.
Get the latest election news, live updates and election schedule for Lok Sabha Elections 2019 on ndtv.com/elections. Like us on Facebook or follow us on Twitter and Instagram for updates from each of the 543 parliamentary seats for the 2019 Indian general elections.