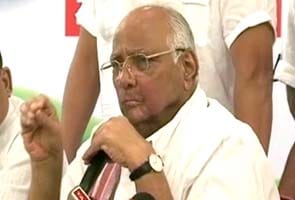 Pune:
Terming Ishrat Jahan, who was killed in an alleged fake encounter by Gujarat police, as an "innocent college girl", Union Minister and NCP chief Sharad Pawar today said Muslims cannot be blamed for reacting to "atrocities" against them.
He brought up the issue of framing of "innocent" Muslim youths in 2006 Malegaon bomb blasts by investigating agency, saying such incidents not only "inflicted unprecedented agony on their families but also virtually eroded their sense of belonging to India".
Referring to Ishrat Jahan encounter killing, Mr Pawar said, "What was her mistake? How can an innocent college girl be a terrorist? Three persons were shot dead in this encounter and now the police officers involved are being interrogated. But those families were ruined".
Mr Pawar was addressing party workers at a meeting at Hinjewadi in Pune.
"(In Malegaon bomb blasts case)..Nineteen Muslim youths were imprisoned for three years (before the alleged Hindu extremists were booked) ruining their lives. How would they feel that they belong to this country? We have to change our mindset with regard to this community", he said.
Mr Pawar said, "If someone gets angry because of such atrocities and reacts, how can he be blamed?"
Calling for a change in the system and outlook of the administrative apparatus, the NCP president asked his partymen to stand for truth even if it meant losing of votes.