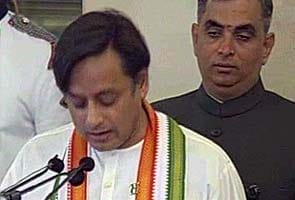 New Delhi:
The suave, multi-lingual Shashi Tharoor is Sunday's Comeback Kid. He is back in the union council of ministers after two and a half years and will be minister of state for Human Resource Development.
Mr Tharoor took oath at Rashtrapti Bhawan today; his wife Sunanda was seen filming the moment on her iPhone. After being sworn in, he told NDTV, "I am honoured to be given the chance. "It's an important portfolio as we have many young people in the country. We have to help them really use their aspirations."
The senior minister for Education was also changed today: Pallam Raju replaced Kapil Sibal.
Mr Tharoor was forced to resign in 2010 as minister of state for external affairs after allegations of a conflict of interest in promoting an IPL team for Kochi which was linked to the woman he married after quitting office, Sunanda Pushkar.
"The controversies were created more by the media , the whole IPL issue behind me for several years now," Mr Tharoor said today. The Kochi IPL team has since ceased to exist.
Apart from the IPL controversy that cost him his job, Mr Tharoor's first stint as minister was marked by several controversial and startling statements and provocative tweets that aided no doubt in him becoming the first Indian celebrity to get a 100,000 followers on Twitter. That number has swelled to1.5 million by now and he is trending on the social networking website right now.
Mr Tharoor is a first time Congress MP from Thiruvananthapuram in Kerala, where he scored a big electoral win in 2009, despite being considered an outsider and not grassroots leader enough. Mr Tharoor spent many years in the United Nations, rose to be under-secretary general and quit the UN only after he lost to Korea's Ban ki Moon in 2007 in a contest for the Secretary General's post. He has authored books, including best-selling fiction and is also a columnist.
Before he left for Rashtrapati Bhawan today, Mr Tharoor, accompanied by his wife, offered prayers at a temple. In a photo-op, Mrs Tharoor fed him sweets before they left for the swearing in ceremony - she in cream, he in white kurta pyjama. Mr Tharoor married Sunanda, his third wife, in a much publicised wedding a few months after he was forced to quit in August 2010.