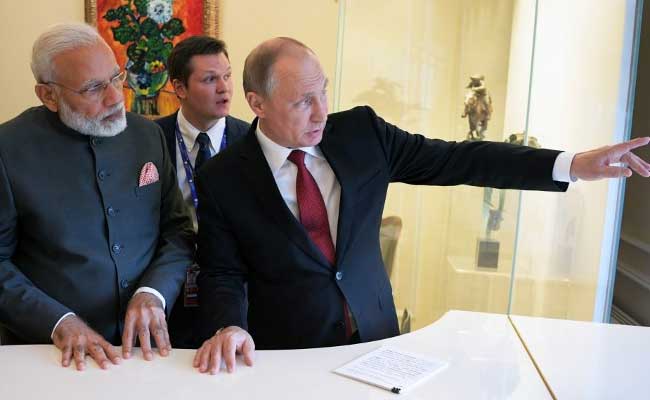 St Petersburg:
India and Russia today asked all countries to stop cross-border movement of terrorists and asserted that a decisive collective response from the international community without "double standards and selectivity" was required to combat terrorism.
The assertion to fight terrorism came in a vision document released by India and Russia after Prime Minister Narendra Modi and President Vladimir Putin held wide-ranging talks here. Prime Minister Modi, addressing a joint press event with Putin, said India welcomes Russia's unconditional support in the fight against cross-border terrorism.
PM Modi said the views of the two countries are similar on the problem in whichever form it exists, whether in Afghanistan, the Middle East or Asia-Pacific.
"India and Russia stand together on terrorism and the new challenges to security," he said.
"We strongly condemn terrorism in all its forms and manifestations and stress that there can be no justification whatsoever for any acts of terrorism, whether based upon ideological, religious, political, racial, ethnic or any other reasons," the two countries said in the St Petersburg declaration titled 'A vision for the 21st century'.
India and Russia asserted that they will continue efforts to combat international terrorism, which poses a great threat to the maintenance of peace and security.
"We are convinced that the unprecedented spread of this threat requires decisive collective response on part of the entire global community, without double standards and selectivity, in accordance with international law and the UN Charter," the declaration said.
India and Russia urged all countries and entities to work sincerely to disrupt terrorist networks and their financing, and "stop cross-border movement of terrorists".
"We call for an early conclusion of negotiations on the Comprehensive Convention on International Terrorism to strengthen the global counter-terrorism normative and legal framework to combat this scourge," the statement said.
The strong pitch against terrorism comes after Prime Minister Modi also raised the issue of combating he menace with the top leadership in Germany and Spain.