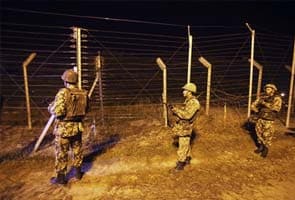 Srinagar:
India gave to the Pakistani army this evening the body of its soldier who was killed after he crossed the Line of Control yesterday in the Naushera sector of Jammu and Kashmir, about 100 kms from Jammu.
The body was handed over with military honours at a commander-level flag meeting.
"The solider's identity has been established as Mohammad Ikhlak of 60 Punjab Regiment," an Indian Army officer said.
The Indian Army said "on being challenged, the intruder fired" and that Indian troops retaliated, killing the Pakistani. He was found with an AK47 rifle.
Two Indian soldiers were also injured in the gunfight.
Pakistan claims its soldier had accidentally crossed the Line of Control into Indian territory.
Both countries have traded new charges of firing and ceasefire violations along the 742-km Line of Control. Tension escalated when Pakistani forces, on January 8, killed two Indian soldiers after crossing the Line of Control in Kashmir.
One of the bodies was found decapitated, provoking outrage in India and briefly hampering cross-border travel and trade services between the two countries.