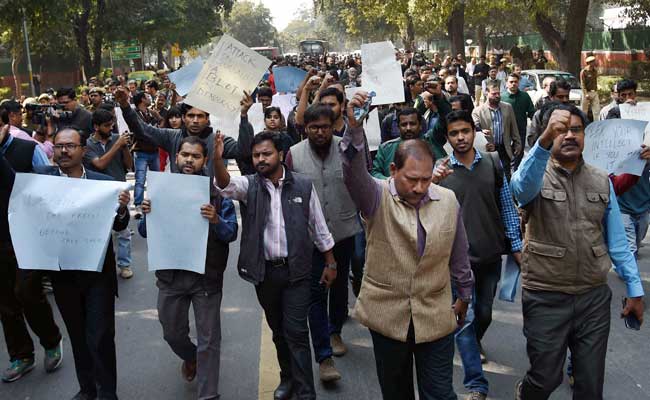 Highlights
India ranks 136th in press freedom report: Reporters Without Borders
India fell 3 spots as Pakistan climbed 8 to 139, China at 176
Globally, media freedom has never been so threatened, says group
New Delhi:
India slipped three places to edge closer to Pakistan and China in a new report on press freedom, Reporters Without Borders warned on Wednesday. Clobbered by "online smear campaigns by the most radical nationalists" and the prosecution of journalists "who are overly critical of the government", self-censorship is growing in mainstream media in India, according to the Paris-based monitoring group, known by its French initials RSF.
India came 136th in the list of 180 nations
while regional rival
China maintained its ranking
at 176 and
Pakistan gained 8 positions
to climb to 139.
Globally, press freedom has never been as threatened as it is now, in the "new post-truth era of fake news" after the election of US President Donald Trump, the non-profit said. Its annual World Press Freedom Index warned of the "highly toxic" media-bashing of Trump's election campaign and Britain's Brexit referendum.
The situation is at "a tipping point" and "media freedom has never been so threatened", it said bluntly.
Media freedom is being undermined by the rise in surveillance and of authoritarian strongmen across the globe, the watchdog said. The US and Britain both slipped two places in the index to 43rd and 40th, RSF said.
The RSF index found that in the past year nearly two thirds of the countries had registered a deterioration in their situation, while the number of countries where the media freedom situation was "good" or "fairly good" fell by more than two percent.
North Korea 'least free'
Norway came out top of the index with the world's freest media.
It took over from neighbouring Finland which had held the title for six years.
At the other end of the scale, North Korea took bottom place from another repressive closed state, Eritrea, which has propped up the table for a decade.
China, war-torn Syria -- the deadliest country for journalists -- and Turkmenistan complete the bottom five.
Italy showed the biggest improvement, rising 25 places to 52nd place thanks to the acquittal of journalists tried in the Vatileaks II case, which exposed scandal at the top of the Catholic Church.
(With inputs from AFP)