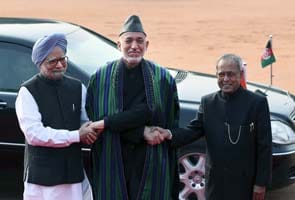 New Delhi:
India was for a "stable, strong and prosperous" Afghanistan, Prime Minister Manmohan Singh said on Monday, adding that the two countries had decided to intensify cooperation, especially in the sectors of agriculture, small business and mining.
"President Karzai is no stranger, he has long been a close friend," Manmohan Singh said at a joint press conference with visiting Afghanistan President Hamid Karzai in New Delhi.
He said India has provided a $2 billion aid programme to Afghanistan for expanded capacity-building and the MoUs signed on Monday would launch the third phase of the small developmental projects (SDPs) to address the socio-economic needs of the people of Afghanistan.
He said the two leaders also discussed the security and political situation in the region.