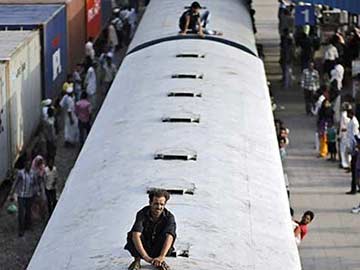 New Delhi, India:
Prime Minister Narendra Modi's new government on Tuesday presented its first railway budget, promising to seek increased foreign and domestic private investment to fund modernisation of the country's huge but badly stretched network.
The state-owned railway has suffered from years of low investment and populist policies to subsidise fares. These have reduced the system to a slow, congested network that crimps economic growth.
Revamping railways is among the top priorities of 63-year-old Mr Modi, who sold tea to train passengers as a schoolboy and has vowed to build a vast network of high speed trains as his signature infrastructure project.
Here are some facts about India's railway budget and the network:
BUDGET AND INVESTMENTS
The tradition of presenting a separate railway budget started in 1924 during the British era, when the network was the country's largest industrial asset. Currently, the government unveils the railway budget days ahead of its annual federal budget.
With 1.3 million employees, Indian Railways is among the world's largest employers. It has added about 260,000 staff in the past five years.
Critics have long argued that India should abolish a separate budget for railways, given that it now accounts for a small share of the overall budget of Asia's third-largest economy.
Lack of timely reforms and investment have hurt growth. Experts say railways need 20 trillion rupees ($334 billion) of investment by 2020. To date, there has been little private sector participation. For the five years ended April 2012, when there was a $16 billion investment target, public-private partnerships accounted for only 4 per cent of the total.
In a 'Vision 2020' document released in 2009, the government aimed to increase the gross revenue from railways to 3 percent of India's GDP from about 1 per cent.
RAIL NETWORK AND TRAFFIC
Growth in the route network has been slow. There were 53,996 kilometres (33,540 miles) of routes in 1947 when India became independent, and rail tracks now cover 65,000 kms. That's an addition of around 11,000 kms in 67 years, or 164 kms annually.
India has the world's fourth-longest route network after the United States, Russia and China. In 1980, however, India had more route coverage than China, before rapid modernisation in China changed the picture.
India added 1,750 km in railway tracks between 2006 and 2011, according to report from consulting firm EY. In comparison, China added 14,000 kms during the same period, the firm said.
Passenger fares are highly subsidized for the 23 million Indians that travel daily by rail.
Commuters are often seen traveling on roofs of Indian trains, and deaths frequently occur, often from electrocution. In recent years, the railways have tried to impose penalties and put plastic nails on rooftops to curb rooftop travel, but it continues.
Railways handled most of the country's cargo in 1950 but now account for only about one-third because of the congested network and slow train speeds.
© Thomson Reuters 2014
Follow NDTV for latest election news and live coverage of assembly elections 2019 in Maharashtra and Haryana.
Subscribe to our YouTube channel, like us on Facebook or follow us on Twitter and Instagram for latest news and live news updates.