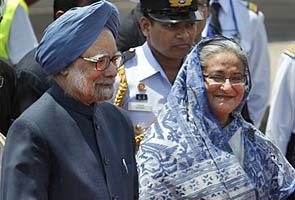 Dhaka:
Resolving a decades-old border dispute, India and Bangladesh today signed a historic agreement on demarcation of land boundaries. The protocol was signed by Prime Minister Manmohan Singh who arrived in Dhaka today on his maiden visit which has come under a shadow after the much-anticipated Teesta river treaty was put on hold.
The pact was put on hold after West Bengal chief minister Mamata Banerjee backed out of the prime minister's delegation to Bangladesh at the last minute, reportedly after being unhappy over the draft deal drawn up over the sharing of the Teesta river waters between the neighbours.
This sudden scrapping of the pact reportedly caused disappointment in Dhaka which sought a reassurance from New Delhi that the Teesta treaty had only been put on hold temporarily. In fact, Bangladesh Prime Minister Sheikh Hasina's advisor and special representative had said that New Delhi must assure them that the agreement would be signed soon, as it would be difficult to explain to the people of their country if it didn't happen.
Dr Singh, who met his Bangladeshi counterpart Sheikh Hasina, said, "We have decided to reach a mutually acceptable, fair and amicable arrangement for the sharing of the Teesta and Feni rivers."
But despite the disappointment of Teesta, the border agreement brought some much-needed cheer in both the camps. Under the agreement protocol on land boundary agreement signed by Foreign Ministers S M Krishna and Dipu Moni in the presence of the two Prime Ministers, the two countries demarcated the entire land boundary and resolved the status of enclaves and adversely possessed areas.
India and Bangladesh share a 4,096 km land boundary covering the five states of West Bengal, Assam, Tripura, Meghalaya and Mizoram.
The agreement on swap of 111 Indian enclaves in Bangladesh and 51 Bangladeshi enclaves, where approximately 51,000 people have been living for centuries, fulfils a vision laid out by the Indira-Mujib pact of 1974.
Non-resolution of the enclaves had plagued the India-Bangladesh ties for decades and the agreement signed today was the most important event of Singh's visit.
(With PTI inputs)