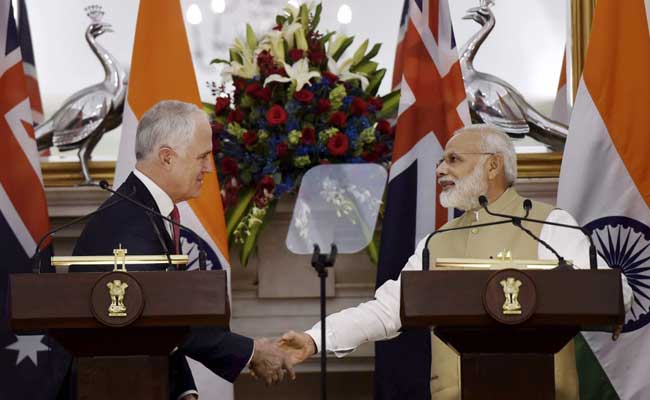 New Delhi:
India and Australia today inked six pacts including one aimed at boosting counter-terrorism cooperation after talks between Prime Minister Narendra Modi and his Australian counterpart Malcolm Turnbull in New Delhi.
The two leaders held comprehensive discussions on bilateral, regional and international issues of mutual interest and concern.
At a joint press event with Prime Minister Turnbull, PM Modi said they reviewed the entire gamut of ties and took many "forward looking" decisions including one on early holding of the next round of talks on comprehensive economic cooperation agreement.
Emphasising on peace and stability in the Indo-Pacific region, Prime Minister Modi said challenges like terrorism and cyber security require global strategy and solutions.
The two sides inked a pact to boost counter-terrorism cooperation which was signed between the Ministry of Home Affairs and its counterpart Australian ministry.
While Prime Minister Modi noted that Australia was ready to supply uranium to India, Mr Turnbull said his government was looking forward to exporting uranium to India "as soon as possible".
Prime Minister Turnbull arrived yesterday on a four-day visit, his first to India after assuming office in 2015.