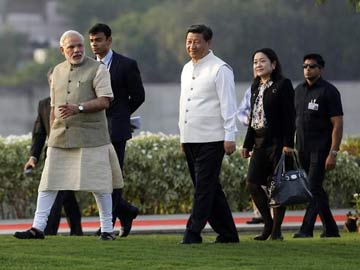 New Delhi:
China and India can become cooperative partners in growth, the "express train" on which others in the region can chug along, Chinese President Xi Jinping said on Thursday in a special address as he outlined his vision in which China is willing to partner South Asia through massive investments.
In an address to a select audience of strategic experts, diplomats, scholars under the auspices of the Indian Council of World Affairs (ICWA), he also spoke at length about the age-old links between India and China, especially through Buddhism and also touched upon his earlier visit to India 17 years ago.
Xi Jinping spoke about his reading of books on India in his childhood, including about the Ganga, the Gupta dynasty, the Mughals, India under the colonial rule and on Mahatma Gandhi.
He said his visit to Sabarmati Ashram in Ahmedabad on Wednesday was something he always wanted to do.
India's development has been "truly incredible", said Xi, adding he viewed India as "a long corridor of rich history "with an exhilarating present and a spectacular future".
He said under Prime Minister Narendra Modi's leadership, the Indian people were "more confident" and the international community has "greater expectation" of the new government.
Emphasising the need for both nations to join forces economically and strategically, Xi repeated what PM Modi had told him at the BRICS summit in July - that "China and India are two bodies but one spirit".
He said their bilateral cooperation has been unprecedented over the past decade, especially in the economic field, and repeated his vision of India and China together becoming a geopolitical force in the world.
He said with the rise of the Asian century, "China and India as two vital forces have once again been brought to the forefront of times.. Our ties have gone beyond the bilateral scope", and that the "world's factory" (China) and the "world's back office" (India) should enhance cooperation to tap their mutual complementary advantages.
On the border problems, Xi said: "Neighbours may encounter problems. What is important is to tackle the boundary question and seek a fair, resonable solution at an early date. And in the meantime, India and China should not allow the boundary problem to affect their bilateral economic ties."
He added he was confident that both countries have the wisdom to resolve the dispute.
Xi said India and China should become "cooperative partners for growth.. become the express train and bring others along.. Both should step up economic cooperation, speed up the BCIM (Bangladesh-China-India-Myanmar) corridor and complete negotiations early on the Regional Comprehensive Economic Partnership (RCEP) trade agreement.
On charges by other nations of hegemony by China, Xi said a stronger China is not a threat to others, and will be "firmly connected to path of peaceful development".
He said China values good neighbourliness, which is a guiding principal of its foreign policy and that it sees its neighbours as a key to its own well-being.
He said amity and sincerity with neighbours would be to mutual benefit "so all can shine in the fruits of development".
Xi said while he was "soberly aware that China is the biggest developed country in the world but its per capita GDP was poor and it needed to focus on economic development".
Dwelling on South Asia, he said the subcontinent "holds infinite potentiality, it is the new pole of growth in Asia and beyond".
Outlining his "bold initiative" to promote connectivity with the neigbouring region through land and maritime Silk Route, he said it would encompass economic as well as people to people ties. China is willing to earmark $150 billion for South Asia, including $30 billion towards investment and $20 billion towards concessional facilities to spur growth in the region.
China is also willing to give 10,000 scholarships for training opportunities.
"We are willing to work with South Asia for China-South Asia progress". He said China is South Asia's biggest neighbour, and India is the region's biggest member. "China is willing to work for the betterment of Asia, for its three billion people, and for peace and stability in the region".
China is not on the best of terms with its Southeast Asian neighbours due to territorial quarrels over the South and East China Seas and little islands that dot the waters.
Xi is here on a three-day visit. He arrived on Wednesday from Sri Lanka, where he inaugurated a $1.4 billion port city being built on an artificial island near Colombo, mostly through Chinese funds.
Before Colombo, he was in Maldives where the Male government has inked a deal with a Chinese firm for upgrading its airport - an over $500 million deal that the Maldives government had cancelled with India's GMR firm two years ago.