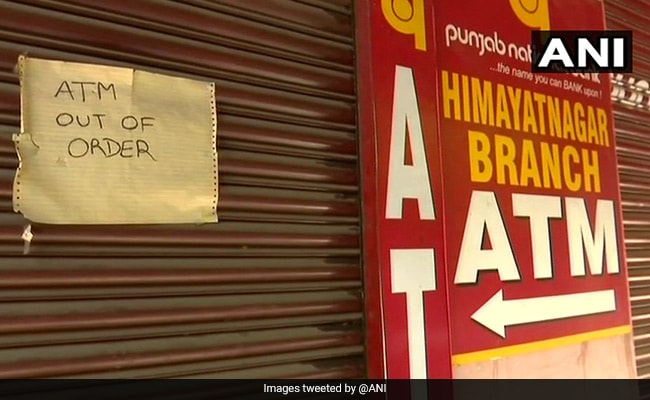 NEW DELHI:
Income tax officials have been roped in to probe the surge in withdrawals that is believed to have
contributed to the cash crunch
including ATMs running out of money in several parts of the country, a top government official has told NDTV. Finance Minister Arun Jaitley had earlier acknowledged a temporary shortage caused by
'sudden and unusual increase'
of withdrawal in some areas and assured people that this situation was being "tackled quickly".
There have been suggestions that the cash crunch could be linked to factors such as higher cash usage for marriages and
the procurement of crops.
But there is acknowledgement that the government isn't very clear on the reasons for the shortfall. The finance ministry hopes its agencies such as the tax department would be able to help.
The tax department would look into big individual withdrawals over the past two-three months as part of this assessment, the senior official told NDTV.
The idea, at this stage, is to get a clearer picture of the contributory factors for the cash crunch that has served as a reminder of the ATMs running dry in the months after Prime Minister Narendra Modi's
sudden decision to scrap
Rs 500 and Rs 1,000 currency notes.
These
were replaced by a mix of Rs
2,000, Rs 500 and later Rs 200 currency notes.
Of the Rs 18 lakh crores in the system, the finance ministry's top official Subhash Chandra Garg, told reporters that Rs 2,000 notes made up for Rs 6.7 lakh crore, which, he underlined, was more than adequate to meet the transaction demand of customers.
"But, of late, we have noted somewhat lesser inflow coming back from circulation," Mr Garg said.
Mr Garg said they hadn't investigated this trend so far. "But you can assume that this one note is most suitable for people to keep with themselves.
In a statement earlier, the Finance Ministry had attempted to play down the pattern of ATMs running short of currency notes. "This unusual spurt in demand is seen more in some parts of the country like Andhra Pradesh, Telangana, Karnataka, Madhya Pradesh and Bihar," the government said.
It is not clear if a change in the use of digital transactions had coincided with the shortage over the last two-three months.
One of the four stated objectives of the government to ban old currency notes in November 2016 had been to push people to use digital mode rather than cash.
Mr Garg pitched for digital transactions again. "We have adequate cash, but the preferable mode of use is digitisation, so use it," he said.