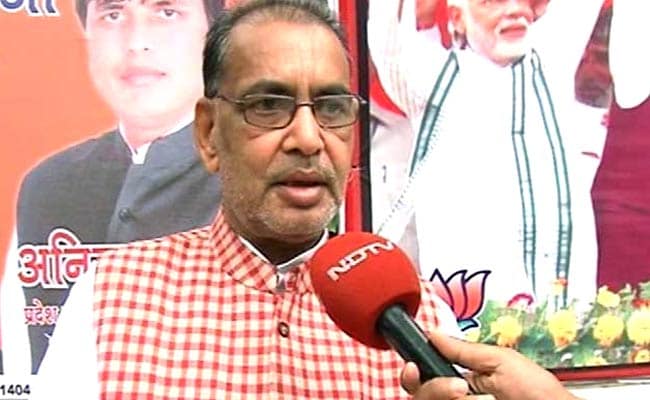 New Delhi:
A poorly-worded written reply in Parliament to a question on the sensitive issue of farmer suicides in the country, has earned Union Agriculture Minister Radha Mohan Singh severe criticism. In his reply he lists dowry, love affairs and impotency as some causes of suicide.
Mr Singh's reply in the Rajya Sabha says the causes of suicides by farmers due to agrarian distress include "indebtedness, crop failure, drought, socio-economic and personal."
However, he has also said, "According to NCRB, causes of suicide include family problems, illness, drug abuse/addiction, unemployment, property dispute, professional/career problems, love affairs, barrenness/impotency, cancellation/non-settlement of marriage, dowry dispute, fall in social reputation and unknown causes."
The reference to what appears to be a list of general causes for suicide has been slammed by the Opposition as insensitive. The Samajwadi Party's Naresh Agrawal demanded an apology from the minister saying his remarks were "irresponsible." KC Tyagi called it an insult to farmers.
The Left's Sitaram Yechury said the reply was "ridiculous" and alleged it was designed to "divert attention" from a sharp rise in farmer suicides due to agrarian distress.
Mr Singh had been asked how many farmers had committed suicide in the country in the last three years and whether the lack of a better support price for their produce was a major cause.
The new controversy comes at a time that the Narendra Modi government is already under attack over its controversial proposed land reforms, which the Opposition calls "anti-farmer and anti-poor."
The reply says the maximum farmer deaths were reported from Maharashtra, Telangana and Chhattisgarh. Congress vice-president Rahul Gandhi has toured these states to meet families of farmers who have committed suicide, slamming the Narendra Modi government for what he calls its "apathy to their plight."
Bankruptcy/indebtedness and family problems were major causes behind the suicides, accounting for 20.6 per cent and 20.1 per cent respectively. Other major causes were crop failure and illness, the government said.