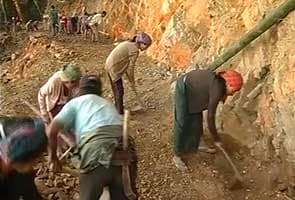 Manipur:
At 4 pm on a sunny winter afternoon, a group of people are hard at work, trying literally to move mountains.
These are residents of Tamenlong district in Manipur; tired of years of being fobbed off by the government, they have decided to build for themselves a much needed main road to link the district to nearby towns of Assam and Nagaland.
There are such few roads in this area that a journey between neighbouring villages can take upto a day.
Even the National Highway connecting state capital Imphal to Tamenglong is desperately in need of repair, making health care and education a distant possibility.
The inspiration for the community that's working on the road is a young civil servant, Armstrong Pamei, who himself had to walked for nearly 24 hours to visit his home during school breaks. Lately he has galvanized villagers and helped raise funds in social media forums. Another way villagers are contributing to this project is by giving something in return for a kilogram of salt, which the church distributes to the families.
Mr Armstrong is son of a primary school teacher who did carpentry to supplement his income and raise seven children.
"I grew up like this. I walked from my village to the district headquarters and now if I am given an opportunity, then why not take a chance to motivate people, instead of waiting? I am sure after seeing this energy of the people, the government will come in a bigger way to build a better road," he explains.
More than 250 people have been working since August this year to cut through hills and impossible terrain in an attempt to connect these hills to Assam's North Cachar Hills and Nagaland.
So far, 60 kms of road, which once existed, has been repaired. 40 kms of new road is being built, based entirely on fund raised by people in the villages and well-wishers on social media.
The government rates for the process would have been around 50 lakhs for a kilometre, but Mr Armstrong and his men have completed it for only 15 lakhs with some machinery being rented to them at no cost.
This ambitious project is also motivated by their desire to physically link the Zelianrong community, which has three tribes living in Assam, Nagaland and Manipur, which could bolster a sub-national movement for tribes who want to create a separate homeland for themselves. For now, this new stretch of road will definitely bring special Christmas cheer to the region.