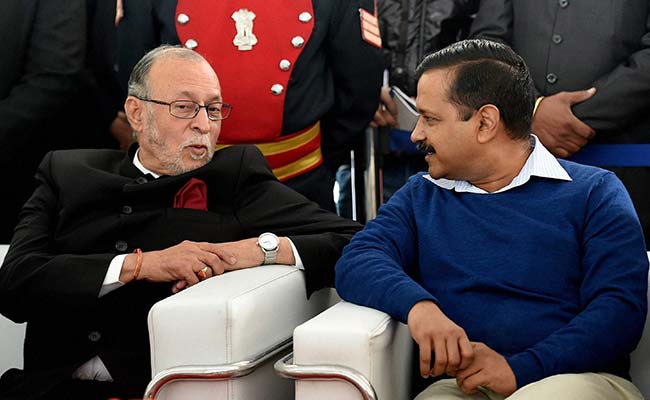 Highlights
AAP accuses the centre of eating into authority of elected government
Petition challenges court order that Lt Governor is administrative boss
The Supreme Court ruling is expected at 10.30 am today
New Delhi:
The Supreme Court will today deliver its verdict on the constant power struggle between the Arvind Kejriwal-led Aam Aadmi Party government and the Centre, represented by Lieutenant Governor Anil Baijal, in Delhi. Chief Minister Kejriwal's government had last year petitioned the top court, accusing the centre of flagrantly eating into the authority of the elected government.
At the heart of the Aam Aadmi Party government's petition is the argument that an elected government cannot be without any power and the constitution could not give the Lieutenant Governor powers to "stultify daily governance by sitting over files". The petition challenges the high court's decision that the Lieutenant Governor is the administrative boss of Delhi.
A five-judge constitution bench headed by Chief Justice of India Dipak Misra had completed a month-long hearing on the AAP petition last December.
The ruling, which is expected to reconcile the role of the chief minister and the Lieutenant Governor in Delhi, is expected at 10.30 am today.
Chief Minister Arvind Kejriwal has been locked in a bitter power tussle with the centre ever since his AAP swept to power in Delhi in 2015.
The Delhi government does not have control over land, bureaucracy and police.
But AAP says the centre is trying to rule Delhi using the Lieutenant Governor to block its plans on other subjects such as health and education as well.
Mr Kejriwal says the Lieutenant Governor has been working in a brazenly partisan fashion and at the instance of Prime Minister Narendra Modi to prevent the Delhi government.
In recent months, AAP has also blamed the BJP-led coalition at the centre of provoking the bureaucracy to revolt against the elected government after a top official Anshu Prakash accused Mr Kejriwal of assault at a midnight meeting in February this year.
The standoff ended only after Mr Kejriwal led an unprecedented nine-day protest against Lieutenant Governor Anil Baijal at his office because he wasn't telling bureaucrats or IAS officers under his control to fall in line.
During arguments in court, P Chidambaram, one of the nine top lawyers to appear for the AAP government in top court, said the high court verdict which was being challenged by AAP had effectively made the "LG as the Viceroy of the British Crown".
In verbal observations made during the court hearings, the judges had observed that the Lieutenant Governor did appear to have primacy in the national capital.
But the court has also indicated that the LG cannot "sit over files", did not appear to have the powers to sit in judgment on the elected government's decisions and the Lieutenant Governor's responsibilities are not absolute.