Patna:
Highlights
Nitish Kumar wants Lalu Yadav's son Tejashwi to quit Bihar government
Tejashwi, who is Deputy Chief Minister, named in corruption case
He won't resign, says Lalu, adds "but I won't let alliance collapse"
Lalu Yadav today took a swipe at ally and Bihar Chief Minister Nitish Kumar, warning that "I will not oblige the BJP and like-minded people who are
asking for Tejashwi's resignation
." However, speaking exclusively to ndtv.com, the 71-year-old politician added a caveat - "I will not allow the
maha-gathbandhan
(alliance) to suffer" - implying that if the Bihar government's future depends on it, he could ensure his son resigns as Deputy Chief Minister. Which makes his crack about Nitish Kumar thinking like the BJP considerably tamer than the verbal bullets he is known for.
Tejashwi Yadav
, his younger son, is, as of last week, named in a corruption case along with Lalu Yadav. Whether he quits could rearrange the government in Bihar as well as national political partnerships. Nitish Kumar has been accused by his allies, which include the Congress, of being open to propositioning by their rival, the BJP.
Lalu Yadav did not comment on whether
Nitish Kumar has privately set a deadline
for Tejashwi Yadav to provide, by Saturday evening, a detailed and public rejoinder to the CBI's charges against him. Sources in Nitish Kumar's party say that the explanation could serve as a temporary fix-it and postpone the demand for Tejashwi Yadav to be removed from office.
If he resigns on these "flimsy charges", it will encourage the CBI and other agencies to frame other ministers, Lalu Yadav said to ndtv.com, adding that "it is the people of Bihar who voted for Tejashwi, and when our party has met and decided he should not resign, who are these people who have neither elected nor selected him to ask for his removal?"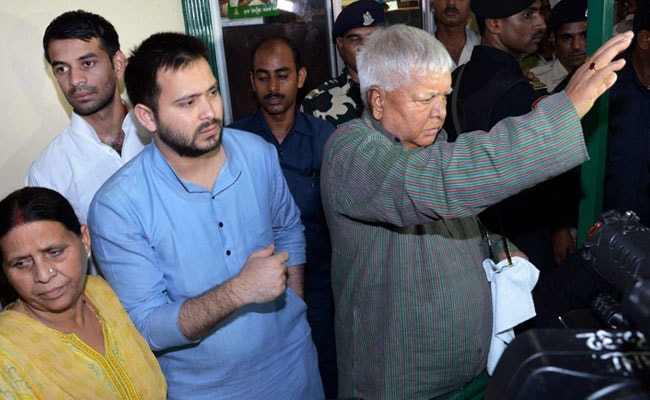 The Yadavs say the fake charges are routed through the CBI by the central government for the twin goals of wanting to get even with Lalu for his constant criticism of Prime Minister Narendra Modi and undoing the "Grand Alliance" that governs Bihar.
The case accuses Lalu Yadav of venality during his term as Union Railways Minister to acquire a sweetheart deal for three acres of land in Patna that is now jointly
owned by Tejashwi Yadav, his mother and his siblings
. The plot, now worth more than over 90 crores, was not disclosed as an asset by Tejashwi Yadav as required by law before his election to the Bihar legislature.
Lalu Yadav was barred in 2013 from holding public office after he was convicted in another corruption case that goes back to the 90s when he was Bihar's Chief Minister. His children are now entangled in a legion of cases that include alleged money-laundering.
For Nitish Kumar, the cases against the Yadavs
are outpacing their worth as allies, especially with the BJP stating that it will ensure he stays in office if he dumps his existing allies by supporting his government without participating in it. The Chief Minister has also trended lately towards enthusiastic support for decisions by Prime Minister Narendra Modi and the BJP that have been shot down by opposition leaders of his status, promoting talk of his being ready to end his current political marriages to start a new one.
Get Breaking news, live coverage, and Latest News from India and around the world on NDTV.com. Catch all the Live TV action on NDTV 24x7 and NDTV India. Like us on Facebook or follow us on Twitter and Instagram for latest news and live news updates.