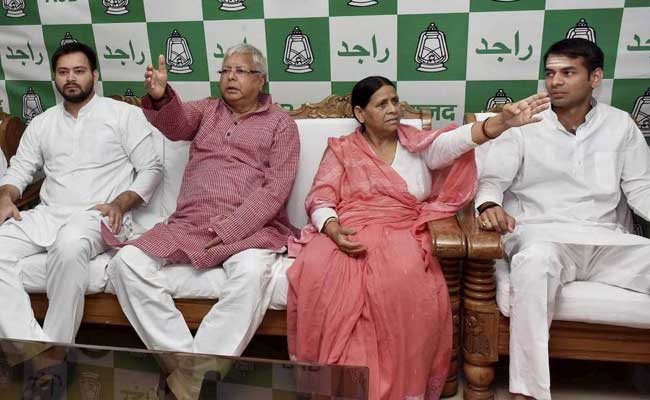 Highlights
Lalu Yadav meets party today to discuss corruption charges
Son Tejashwi who is Deputy Chief Minister also named in case
Boss Nitish Kumar upset with Tejashwi stating he won't resign: sources
Patna:
The next 36 hours will be crucial for the alliance of three parties that governs Bihar. Lalu Yadav,
who was raided on Friday
, has called a meeting today of his legislators, who form the biggest group in the legislature. His 27-year-old son, Tejashwi Yadav, who is the Deputy Chief Minister of the state, has been accused of corruption by the CBI along with Lalu Yadav. As the opposition called for his resignation, Tejashwi Yadav announced he would not oblige - a pronouncement unsurprisingly endorsed by his party today.
Tejashwi Yadav's earlier declaration has reportedly upset his boss, Chief Minister Nitish Kumar, who was away from Patna when Lalu Yadav's home and other properties were raided. Though he was only about 100 km away in Rajgir, recovering from a viral fever, the distance between him and Lalu Yadav is given away by his concerted public silence on the corruption charges, though they reportedly spoke on the phone yesterday. "Nitish spoke to Lalu yesterday. He was ill earlier," said Jagdanand Singh, a senior leader from Lalu Yadav's party.
Sources close to the Chief Minister say that it is
his prerogative to decide
whether or not Tejashwi Yadav should be removed, an opinion that is allegedly shared by the Congress, the third participant in the coalition government.
In what will allow him to maintain his silence, the Chief Minister has cancelled his weekly meeting today with public visitors, after which he usually interacts with reporters at his home. Instead, Nitish Kumar will likely make his first comments on the Yadavs' scandal at a meeting that he has called tomorrow of the JDU.
That conclave also provides cover for him to
skip a meeting of 17 opposition parties in Delhi
, also scheduled for tomorrow and to be chaired by Congress leader Sonia Gandhi, whose party is the third and most junior member of Nitish Kumar's government. The anti-BJP front was proposed enthusiastically by Nitish Kumar in April. He broke with it last month to announce that he would support the BJP's choice for President of India instead of the opposition's candidate. He indicated that he was left with little choice because the opposition had yet to decide who it would field.
Tomorrow's meeting was intended at avoiding a repeat of that debacle. The opposition hopes to shortlist its candidate for Vice President, who will be elected next month. Nitish Kumar may send a representative, but his opting out of the session means that a planned meeting with Mrs Gandhi's son and Congress No 2 Rahul Gandhi has also been put on ice.
"Nitish is not in good health. You shouldn't read between the lines. He will break his silence once he recovers," said Ashok Chaudhary, who is from the Congress in Bihar and a minister in Nitish Kumar's government.
Nobody from Nitish Kumar's party has offered an explanation for his behavior. Lalu Yadav's law-makers have complained that Mrs Gandhi and other senior opposition leaders have phoned their support by agreeing that the corruption case, dating to when Lalu Yadav was Railways Minister, is political vendetta being exercised by the centre, but their ally, Nitish Kumar, has telegraphed an entirely different message by making no proclamation to back Lalu Yadav, who has said the case is a conspiracy to punish him for his campaign against Prime Minister Narendra Modi and the BJP.