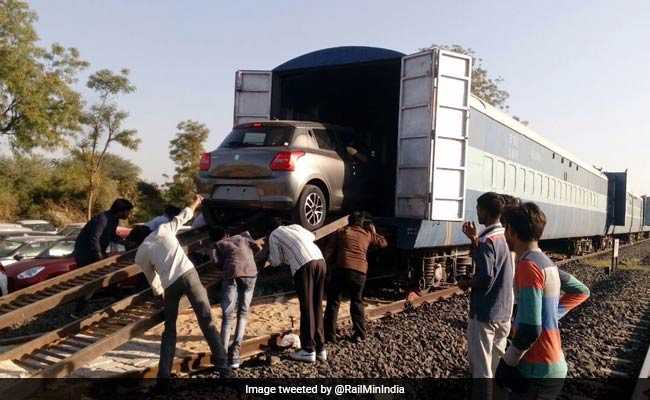 In a first such initiative, the Western Railway has joined hands with automobile giant Maruti Suzuki India Ltd (MSIL) to transport its cars by train from its plant in Gujarat to other parts of India, an official said in Mumbai on Saturday.
The first such train (rake) loaded with 125 Maruti-Suzuki cars in 25 NMG coaches left the Maruti plant in Detroj to Nidvanda in Bengaluru Division of South-Western Railway, a distance of 1m716 km.
The entire consignment of cars was loaded in less than four hours, said WR Chief Spokesperson Ravinder Bhakar.
The Indian Railways tie-up with MSIL is expected to benefit the carmaker's new manufacturing facility near Becharji station in Patan district which produces around 250,000 vehicles per annum, with plans to increase the production capacity in future.
For the operation from Detroj, MSIL and WR have developed a stacking area of 8000 square metres with a capacity to stack for handling up to two NMG rakes.
The Detroj railway station itself has been developed with minimum capital expenditure with MSIL partnering with Indian Railways in the transportation business.
Mr Bhakar said the WR will not only transport the manufactured cars to all destinations in the country but also provide logistic solutions for export of the vehicles.
"This initiative is a great beginning for the development of industry and Gujarat state for making it a hub of car production in near future," he said.
Railway Minister Piyush Goyal has lauded the new freight loading initiative commenced by the WR.
"From transporting autos to Amul butter, Indian Railways gives you the most economical, safe, timely and environment friendly transportation. Adopt it today!" he tweeted.
(Except for the headline, this story has not been edited by NDTV staff and is published from a syndicated feed.)